Running Hilltoppers set for season's final home games 
By Jalyn Bolyard, Online Editor
The WLU men's basketball team is back in action
tonight
in the ASRC against West Virginia Wesleyan College. After only their second loss at Concord and win at UVa-Wise on the road last week, the Hilltoppers have their sights on rebounding back this weekend while at home in two Mountain East Conference (MEC) match-ups.
Tip-off against the
West Virginia Wesleyan Bobcats
is
tonight
at
7:30 p.m.
The Bobcats are currently in the middle of the MEC standings with an overall record of 12-12, 9-9 in conference. Meanwhile, the Hilltoppers will enter the game with a record of 22-2, 16-2 in conference. 
Earlier in the season, on
Jan. 10
, the Hilltoppers dominated the Bobcats winning 97-76.  
It'll be the 132nd meeting between the two schools, with the Bobcats holding the series lead just barely at 66-65. If the Hilltoppers win
tonight
, they will tie that record. For perspective,
Coach Jim Crutchfield
is 23-1 against them since becoming head coach. 
On Saturday
, the Hilltoppers will then face off against
Glenville State College Pioneers
at
4 p.m.
in the ASRC. Glenville State will enter the game with an overall record of 10-12, 7-11 in conference. 
Like Wesleyan, Glenville State also holds the series lead against West Liberty at 71-66 while coming into the 138th meeting between the two schools. However, Coach Crutchfield also has the upper hand as he is currently 17-3 against the Pioneers. 
Earlier in the season on
Jan. 8
, the Hilltoppers won 108-105 in overtime. Although the Pioneers only led by at most two points during the game, they hung on to force the game into overtime. If the game
Saturday
is anything like this one, it'll be a game to see.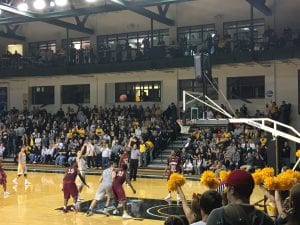 Senior guard
Devin Hoehn
will be someone to watch; he's currently averaging 16 points per game and is now ranked 12 overall on the school's career scoring list with 1,763 points. Hall of famer Tom Ackerman is ranked 11 with 1,834. Hoehn also became only the second Hilltopper with 300 or more 3-point field goals; his 305 is ranked second only to Seger Bonifant's school-record of 374.  
Another Hilltopper to watch is senior forward
Zac Grossenbacher
, as he's currently 17 points away from becoming the 48th West Liberty player to score 1,000 points. He's currently averaging 10.5 points per game. 
Another key player to look for is transfer junior guard
Dan Monteroso
, who is dominating scoring with an average 19 points per game. Another double-digit scorer is sophomore guard
David Dennis
with 13.2 points per game. 
Freshman
Clay Guillozet
had two high-scoring games against Concord and UVa-Wise, scoring 12 and 16 points, respectively. Keep an eye out for him to see if he can keep the streak going this weekend. 
 Although last week's 107-104 loss to Concord hurt, it also became WLU's 200th 100-point game under Crutchfield, with WLU leading heavily 189-11 in those games. Let's see if the Hilltoppers can make to another 100 plus game this week!
Follow along with The Trumpet and The Trumpet Online for coverage during the games. For or more stats, schedules and game notes,  visit
hilltoppersports.com
. 
Photo credit: Hilltoppersports.com