Men's soccer becomes West Liberty's 18th sport
By Cody Shook, Sports Editor
On Feb. 8, 2017, West Liberty University President Dr. Stephen Greiner announced that the university is adding men's soccer as its 18th intercollegiate sport.
Thomas Olivier was introduced as the head coach of the newest sports program on the Hilltop, and he is very eager to hit the ground running. At the press conference, he was very vocal about recruiting as much as possible and as early as possible. Olivier is from France where they "bleed soccer," and he was most recently an assistant coach at Marshall University. There he was a top assistant to legendary head coach Bobby Gray, and he was a leader in recruiting and on-field player development. 
When asked about his game-play style, he really stressed the importance of possession time and having the smartest players on the field. Olivier truly believes that there is plenty of talent in the Ohio-Valley to build a strong program that can contend in the
Mountain East Conference
. During the press conference, he noted that his next few weekends are already jam-packed with trips to different areas to start recruiting for the inaugural 2017 season.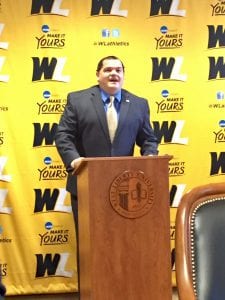 The men's team won't officially be a
NCAA Division 2
team until the fall of 2018, so they will play the 2017 season as a club sport and then enter the MEC the following year. 
"In essence we have a year and a half preseason," Olivier said, which will help develop his players to contend in the MEC in the first official season. 
"As we continue to expand and enhance the opportunities available to our diverse student-athlete population, we are thrilled to add men's soccer as our 18th varsity sport," Greiner said. Olivier and Greiner both believe that there is great talent in the area, which will help the program succeed faster than most expect. "Given the popularity of the sport at the youth level across our region and the success of our rising women's soccer team, we believe this is a program with unlimited potential," Greiner added. 
The women's soccer team arrived just five years ago, and they just made it to their first conference tournament in 2016 with a 6-8-5 record,
their best season yet
. Head Coach Barry Christmas will be instrumental in the advancement of the men's team because he was in Olivier's shoes just a few years ago. 
Olivier was excited to take the job here at West Liberty because "the opportunity to build a program from the ground up was very attractive," he said; and he loved that he will be surrounded by so many successful sports programs on the Hilltop. 
The Mountain East Conference is the real deal when it comes to men's soccer with multiple teams qualifying for NCAA Tournament play in every season since the creation of the MEC. Charleston heads the MEC with a "Final Four" appearance in each of the past three years. Olivier wants to compete with teams like that within his first three years as head coach.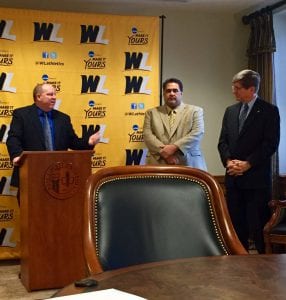 Co-interim athletic director Lynn Ullom thinks Olivier is the right man for the job because he impressed everybody in all of his interviews. Ullom knows how big of a task it will be to start a brand new program, but he believes that if anybody can succeed in this position, it will be Olivier. 
"It is certainly a daunting challenge with so many nationally-ranked programs in the MEC, but Thomas impressed us as an individual with the ability and drive to build and develop a soccer program that will compete with the best the MEC has to offer," Ullom said.
Olivier is already laying out his plans. "We will be recruiting academically driven and soccer motivated student-athletes who want to take advantage of a unique opportunity that allows me to ask the question, 'Do they want to be a part of history somewhere else, or do they want to come to West Liberty and make history,'" he said. 
For more information about West Liberty men's soccer, contact Olivier at
[email protected]
or 304-654-3091.