By Emily Salvatori, Contributing Writer
Emilie Wesney was named the winner of the 2017 West Lib Idol tonight Wednesday, Feb. 22. The final round of the competition took place at 7 p.m. in the College Union Ballroom.
The judges of the evening were Alek Thibodeaux, Assistant Director of Recruitment for Theta Xi, Marcella Snyder, Executive Director of Housing and Student Life, Travis Hinkle Admissions Counselor, and Morgan Wagner, winner of West Lib Idol 2015. President Dr. Stephen Greiner also served as the fifth judge for the night. Kyle Lindsey and Noah Woods served as the emcees, once again.
A video put together by Lindsey opened the show. The video introduced all four remaining contestants in West Lib Idol.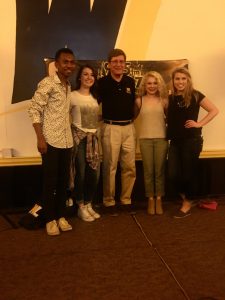 Originally, the evening was supposed to be broken up into two rounds. The first round all four singers performed, and then two were to be chosen to move on. However, the judges could not decide on two finalists, so all four contestants performed their second song.
While the judges deliberated, last year's West Lib Idol winner AJ Holden preformed "How to Save a Life" by the Fray. Wagner, who just recently signed a record deal, also performed "Riptide" by Vance Joy on the ukulele.
Abby Reeves impressed the audience with "Yoü and I" by Lady Gaga and "Let it Go" from "Frozen." Hannah Hlad preformed "Downtown" by Macklemore, and in the second round she sang "I Dreamed a Dream" from "Les Misérables."
Runner-up Natalino "Natto" de Soares sang "Hallelujah" originally by Leonard Cohen and "Imagine" by John Lennon.
Winner Wesney sang "Burning House" by Cam, and for the second round she performed an original song that she had written when she was 14. Wesney said, "It was a great experience. It was stressful, but I conquered my fear."
All the contestants were very talented, and provided the audience with a great show for the past four Wednesdays. The contestants who participated in this year's competition of West Lib Idol included Emilie Wesney, Natalino "Natto" de Soares, Abby Reeves, Hannah Hlad, Cody Waggoner, Ellis Randall, Brooke Dorsey, Sabrina Krouf, Yale Hughes, Sara Wright, Zarek Wiley, Melinda McCumbers, Greg Calinger, Josie Jarrett.
See you next year, West Lib Idol!