Dental cleanings available in Campbell Hall for all students 
By Megan Jones, Advertising Manager
When thinking of West Liberty University, a few significant things come to mind: Hilltoppers, small campus, basketball games, and of course, dental hygiene. Since 1938,
The Sarah Whitaker Glass School of Dental Hygiene
program has been nurturing students and accrediting them with either an Associate or Bachelor of Science degree. 
Campbell Hall has been
newly constructed
into a dental student's dream clinic. The clinic includes over twenty dental operatories that are equipped with ADEC dental units, a radiography suite with nine treatment rooms and x-ray machines, and Dentrix dental practice management software is utilized in all classrooms. 
An important part of a dental hygiene student's educational experience is the cleaning treatments. The program director, Stephanie Meredith, stresses the importance of hands on experience. 
"Hands on experience for the students is important because it prepares them for their professional careers as Registered Dental Hygienists," Meredith said.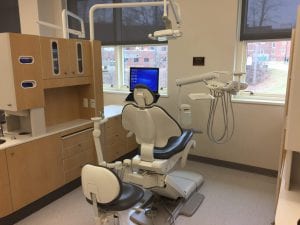 Hands on learning can also have a positive effect on the learning process.  "It allows the students to bring all the knowledge they learn in their didactic and laboratory classes together to provide optimal care and treatment for their patients," Meredith said. 
Senior Dental Hygiene student Katie Mallory has had a promising experience with the program. Aside from missing her clothes – because of having to wear scrubs daily – the cleanings have helped Mallory shape her future. 
"Each patient is so different that they each present a new challenge," Mallory said. "I never have a constant difficulty due to every mouth being unique." 
If you're considering being a patient for a cleaning, you can help a dental hygiene student out tremendously. "Those willing to be patients could help in the learning experience by scheduling appointments in our clinic and making sure they maintain their appointments by coming at their designated date and time.  They can also come prepared to spend three hours at their designated appointment," said Meredith. 
As a patient, it's important to keep in mind that the clinic is a teaching institution and not a substitute for regular dental exams. You can schedule appointments throughout the week by calling secretary Kelly Baker at 304-336-8633, or let a dental hygiene student know you're interested. 
Dental hygiene is an important part of our lives and has recently gotten the recognition it deserves. On Feb. 10, 2017, the senior students traveled to Charleston, W.Va. to witness history when the WV Senate signed into law Dental Hygienists Day. Students are constantly looking for a new learning experience. If you're looking to have your teeth cleaned in the future, remember the clinic on campus!
Photo credit: Daniel Morgan