Annual Great Gala fundraiser to benefit Gary E. West College of Business 
By Natasha Muhametzyanova, Contributing Writer
The Great Gala is WLU's major upscale social event, which started in 2010. The event became famous for its creative use of themes and high student involvement. This year, the annual Great Gala returns at
6:30 p.m.
on
April 22
in
Oglebay's Glessner Auditorium
. 
"The Great Gala combines the philanthropic benefit of helping students and a chance to have a very fun evening in the Wheeling community," said the Dean of WCOB Michael Turpentine. 
WCOB currently enrolls over 300 students. According to Turrentine, a substantial number of those students receive partial departmental scholarships, so the funds raised through The Great Gala will greatly benefit business students.  
The goal this year is to raise $40,000 in net profit. "We are not there yet, but we are optimistic that we'll get somewhere close to that," said Vice President of Institutional Advancement Jason Koegler.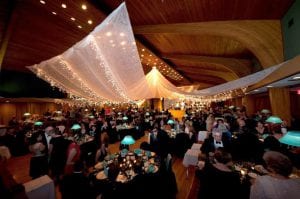 Tickets are already on sale. Individual tickets are $150 per person, and WLU Alumni special rate tickets are $100 per person. Sponsorship opportunities ranging from $500-$10,000 are available for business owners. 
WesBanco
is the title sponsor of The Great Gala for the third consecutive year. This year, the sponsor donated $15,000 for the event. 
"WesBanco is a good friend of our university. It's a local bank that employs over 100 WLU graduates in its corporate office. We are very grateful for their support," Koegler said. 
WTRF 7
is the official media sponsor of The Great Gala. 
The seventh annual Great Gala is also a sign of appreciation for WLU's head football coach Roger Waialae. A Hawaiian native, Waialae inspired this year's theme. Titled "A Night in Hawaii," the event will feature Hawaiian cuisine, music and a fire show. 
"The Hawaiian theme is going to be very colorful. I'm anxious to see what kind of dress ensemble my colleagues and West Liberty stakeholders will come up with," Turrentine said. 
To transform Oglebay into Hawaii, all guests will be presented with Hawaiian leis and a dinner of roasted pig, pineapples, coconuts and more. A group of Hawaiian performers, Tuika's Polynesian Island Magic, will entertain the guests.    
"It's a big event that wouldn't be possible without our dedicated staff and talented students," Koegler said. "Our marketing director, Tammi [Secrist] works hard to put the event together. WLU's
theater department
and student interns also play a very important role in the event's success."
Photo credit: Institutional Advancement Office