By Jalyn Bolyard, Online Editor 
Several students from West Liberty University had the chance to attend Undergraduate Research Day at the West Virginia State Capitol Rotunda on Feb. 24 from
8:30 a.m. to 12 p.m.
From psychology and media design to science, many aspects of WLU were represented at the
Capitol
. 
All student posters were set up in the rotunda. This let Capitol visitors and state legislators have the opportunity to walk around and ask questions to the various student presenters. Students also had the chance to speak to senators and representatives from their respective districts. 
Assistant Professor of Psychology
Dr. Tifani Fletcher
took several psychology students along with interim Dean of the College of Liberal Arts
Dr. Tammy McClain
, including three student presenters with two research projects to the event. 
"I am very proud of the psychology students I supervised receiving recognition for their hard work and getting to disseminate their knowledge to such a varied audience," Fletcher said.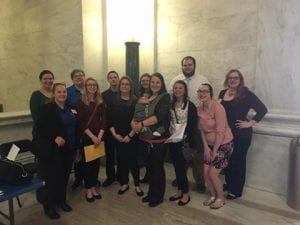 Moriah Chicoine and Haley Kleindler presented "A breath of fresh air," a study about lung capacity that compared smokers and e-cigarette users while demonstrating with an inexpensive balloon methodology. 
Chicoine and Kelly Slobodian presented "Integration Based on Stress Removal Therapy and Perceived Stress Scores," a study based upon data collection from a Wheeling, W.V. therapists' office using a somatic based therapy approach to assist and look at reducing stress. 
Chicoine was also asked by event organizers to represent WLU to the West Virginia legislators during their sessions, and according to Fletcher, she along with her infant daughter Luna "did a fantastic job." 
Other psychology students that attended were Sabrina Adams, Kristina Bennet, William Campbell, Alyssa Moran, Susan Smith, Marshall Tallman, and Michelle Yardick. 
Fletcher was excited for her students and the opportunity Undergraduate Research Day presented. "Conceptual learning and application begin during college coursework, while fully immersing into a research project brings a greater depth of understanding, appreciation, and new skills sets. Additionally, participation in research events like these can lead to increased collaborations and employment / graduate school opportunities," Fletcher said.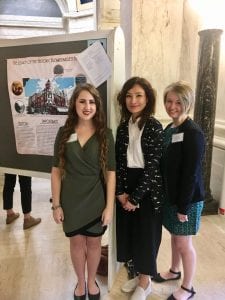 Two students from Associate Professor
Moonjung Kang
's graphic design class also presented. 
Megan Sayre presented a poster titled "The Legacy of the Historic Blennerhassett Hotel," which is about how to promote the grand building along with its history.
Emily Jessee shared her poster "Showcasing West Virginia to Promote Tourism" about her work and promoting the state. 
"It was a very rewarding experience," Sayre said. "I had the opportunity to meet many people and share my poster with them. As a Digital Media Design student, my favorite part of anything that I create is being able to share and discuss it with others, and that's what Undergraduate Research Day was all about."
Biology student Caleb Martin presented his research, a project he also worked on during a summer research fellowship at
Ole Miss
. He performs his research under Associate Professor of Biology
Dr. Joseph Horzempa
.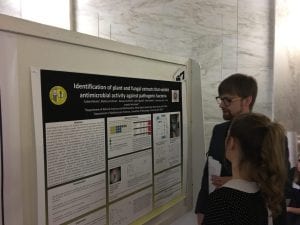 Martin studies three plant fungal extracts to find novel antibiotics or therapeutics against
Acinetobacter baumannii
, which causes infections in combat wounds of our service members. Currently, he is working on isolating more of an antibiotic compound from the bark of
Rhamnus purshiana
to be able to determine the compound's structure and combat
A. baumannii
.
"[It's a] great networking opportunity to meet with people of different backgrounds and research experiences," Martin said. "[It was] an outlet to show others what undergraduate research at West Liberty is all about! I enjoyed sharing my passion with others and being around both people who knew exactly what I was talking about and people who had never had exposure to the kind of research I have been conducting."
Hannah Lynch and Maria Ganoe, two College of Science students, also presented their research titled "Measurements of the Costal Cartilages: Implications for Facial and Reconstructive Surgery." They worked on this together under Associate Professor of Biology
Dr. Matthew Zdilla
along with professors from WVU and an ENT medical resident. 
The results from their study will provide surgeons with useful data to use in pre-surgical planning, as costal cartilage is often used but no prior research exists regarding optimal cartilage use. Lynch and Ganoe also incorporated the growing need for facial reconstructive surgery due to the drug epidemic in their presentation, relating the research to events happening now in West Virginia.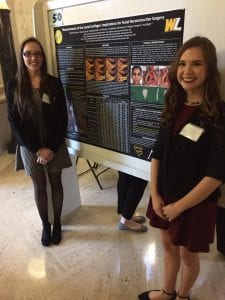 "It was exciting to spend the morning in the Capitol building and with the legislators of West Virginia," Ganoe said. "In addition, it was a wonderful learning experience. Not only did I learn from the other students presenting, but Hannah and I both felt that it was a good learning opportunity to be able to present and share our research with so many people."
"This was definitely a great experience that enabled me to present the research that I take pride in to others who share a similar passion with me," Lynch said. "I am planning on returning to Undergraduate Research Day at the Capitol in the future."
After the poster presentation, there was a recognition ceremony and a luncheon hosted by the
Women's Club of Charleston
 that concluded the day.
"You can watch a concert on TV, or you can attend the concert in person. The same thing for research; you can read about it in class, but actually conducting and presenting research outside of the classroom is a whole other experience. I believe that attending/participating in research is a good experience for a student in any major," Fletcher said.
For more information about the event, visit the Undergraduate Research Day's website. One can also view student's abstracts from the event here.