Disney does it again with a 'tale as old as time'
By Daniel Morgan, Editor 
It's finally here, and let me tell you, "Oh, isn't it amazing?" doesn't even begin to describe it.
Disney's live-action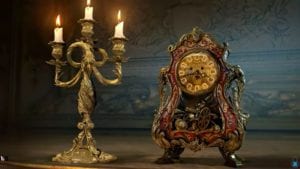 Lumiere and Cogsworth received an updated design in Disney's live-action "Beauty and the Beast." Photo credit: Mirror.co.uk[/caption]
"Beauty and the Beast" has been my favorite of the live-action remakes so far. From the ones that I've seen (and we're talking about Disney – they've all been good), this one was exquisite (and I never use that word. Dang Disney, you are good).
While it's very familiar, there are some differences between the old and new versions. But since I've only seen the original once, I can't say for certain everything that's different. Every part of this film was breathtaking from the scenery to the beautiful music. There's really not much more to say.
Except this – I really like the casting choices for the "furniture." With Ewan McGregor, Sir Ian McKellen and Emma Thompson, who are all charming, sometimes it's like watching a combination of "Star Wars," "Lord of the Rings" and "Nanny McPhee." Also, having the movie open and close with Audra McDonald singing makes it that much better.
"Beauty and the Beast" will not disappoint you. It will either enhance your love for Disney even more or introduce you to a beautiful story.
Photo credit: Digital Spy