Public Relations students' Capstone benefits children
By Josh Smith, Contributing Writer
As the spring semester continues to unravel, more groups and organizations on campus are focusing their intentions on
giving back to the community
. Every school year, multiple classes and clubs at West Liberty University hold charitable drives for local organizations. This semester, the Public Relations Capstone class is doing just that. 
The PR Capstone class is made up of only two students, seniors Brett Cox and Morgan Goddard, but their motivation will help them excel in community involvement. Journalism Instructor Tammie Beagle is the adviser for the Capstone course. 
"Those of which who are blessed enough to have, should be grateful enough to give back," Beagle said. "Every year, my Capstone students, regardless of their field of study, will perform community service." 
The Capstone students are free to choose their desired organization to help, according to Beagle. This year, the two seniors selected to help
A Child's Place CASA, Ltd
. A Child's Place CASA (Court Appointed Special Advocates) is a local non-profit organization that is based in Brooke and Hancock Counties in West Virginia and Jefferson County in Ohio. As a non-profit, they recruit and train volunteers to act as advocates to guide abused and neglected children into the safest future possible.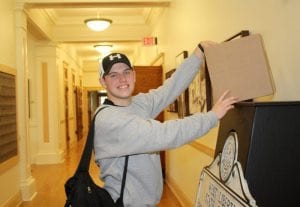 "We just thought we would do it for the children," Cox said. "These kids do not have a safe environment to live in, a family to love them, or, in some cases, clothes to wear. They are living in a world where no child should ever live, and we want to help brighten their world as much as possible." 
The Capstone group not only is raising awareness and funds for the children at A Child's Place CASA, they also want to show appreciation to the many volunteers. 
"We want to give recognition to the advocates as well because they are the true angels when it comes to giving these children a happy and safe future," Cox said.  
Donation boxes are available in the Student Union, the various student dormitories, and the administrative offices around campus. Any and all donations are welcomed, but especially diapers, new backpacks, school supplies, and children's books. All students, faculty, and community members are encouraged to donate. 
"There are all sorts of ways, all sorts of things, that are needed and are greatly appreciated," Beagle said. Donations will be accepted from now until
April 13
. 
The students are also organizing a silent auction at the West Liberty University's Highlands Center on
Saturday, April 29 at 12 p.m.
The proceeds will benefit CASA.
To learn more about A Child's Place CASA, Ltd., please visit their website
here
. 
Photo credit: Daniel Morgan