Spring enrollment increases by 1.8 percent
By Natasha Muhametzyanova, Contributing Writer
West Liberty University Registrar's Office recently released enrollment figures for the 2016-2017 academic year. According to the Registrar and Vice President of Student Services Scott Cook, enrollment increased in the fall 2016 semester.
"Typically, most freshmen enroll in the fall following high school graduation. This past fall we had 436 freshmen enroll to WLU. It is a seven percent increase in freshman enrollment," Cook said.
This semester also brought a few new students to campus, resulting in the spring enrollment to go up by 1.8 percent. Overall, there are currently 2,159 students enrolled at WLU.
Cook indicated several reasons for such an increase. "The campus community is involved in recruiting and the addition of new graduate programs helps," he said.
Transfer students also make up a big portion of the West Liberty community. According to Cook, WLU welcomed 175 transfer students in the fall 2016 semester, which is a 23 percent increase compared to the previous academic year.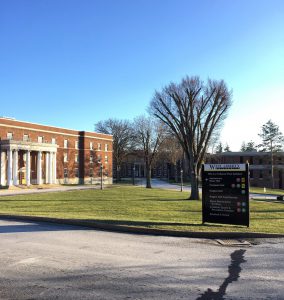 "I definitely made the right decision when I transferred to WLU," Public Relations major Kimberlyn Bland said. Bland transferred to WLU from West Virginia University last spring.
"I was at WVU for 3 years. I really enjoyed the campus and activities at WVU, but I always felt something was off. I had lots of friends but never any close friends. It was almost like there were too many options and too many people there. It was easy to get lost in the crowd. I am so much happier here," Bland added.
West Liberty administrators also expect further increase in the enrollment thanks to the expansion of the athletic program. Two sports were added this academic year: women's acrobatics and tumbling and men's soccer.
WLU also offers five master's programs, including the Master of Arts in Education, the Master of Science in Criminology, the Master of Science in Physician Assistant Studies, the Master of Professional Studies and the online Master of Business Administration degrees. More graduate programs are expected to be added next year.
"I think the future is promising," Cook said. "We will continue to look at new graduate programs, additional athletic teams and look to improve student housing, facilities and the student experience."
Photo credit: Daniel Morgan & Ashley Kirby