WLU fraternity raises $3,000 for ALS research, victims 
By Dustin Weekley, Contributing Writer
On Friday, March 24, West Liberty University's
Phi Delta Theta
fraternity held an event to help raise money for the ALS Association and a local family affected by Lou Gehrig's disease. The event was held at the
G-Top
with over 200 people attending their black tie event. 
Over $3,000 was raised for the
ALS Association
and the Nardone family. The money was raised through ticket sales, raffle tickets, and donations. The $3,000 raised doubles the amount that the fraternity has raised in the past, with the most being $1,500 last year.
ALS is a disease that impacts a little fewer than 20,000 American families every year. The disease gives its victims extreme muscle weakness, which can cause severe muscle spasms and can also impair many bodily functions. Currently, there's no cure for the disease, although it can be treated. 
"Lou Gehrig's disease is a terrible thing for families who have to deal with it. We've had a pretty good relationship with a local family whose father and husband was suffering from ALS for quite a few years now. Unfortunately, he ended up passing away not too long ago, and we thought holding an event like this could do some good for them and everyone else who has to deal with it," said Phi Delta Theta President Billy Campbell.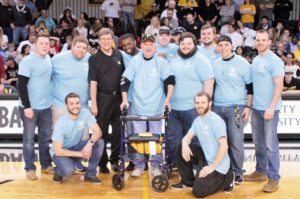 The money raised from the ALS black tie event is going to be split between both the ALS Association to help for research towards a cure and the Nardone family, who recently lost their loved one to the disease.
The Black Tie event kicked off at
9 p.m.
that Friday evening with a DJ and photographer providing entertainment and documenting the affair. People started to come in with their dates, and the dance floor filled up quickly. As the night continued on, the donations were coming in along with people buying raffle tickets. 
"We sold about 200 tickets before the event, so we expected an awesome turnout, but it went way better than we thought it would," said Jacob Gray, Phi Delta Theta's Philanthropy Chair. With 200 tickets sold before the event and  over $300 in ticket sales at the door, the amount of people who turned out to support the fight against ALS was better than anyone expected. 
"Everyone was having a great time and our amazing donors can't be thanked enough for what they've done. I'm hoping next year will be even better since this is the first time we've ever held the event," Gray said.
Looking toward the future, Phi Delta Theta would like to keep this going as an annual event. "We talked about it as a group, and we thought we should have an event that everyone could look forward to every spring," said Phi Delta Theta's Co-Philanthropy Chair Shane Sneddon. "So, why not have the event be something that can help with our philanthropy? Jacob, the brothers and I have been planning it since the beginning of the semester, and now that everything is in place, it should be easier for whoever has to plan it next year." 
Greek life
all over West Liberty University's campus has their annual philanthropy events from
Lambda Psi Sigma
's Puppies on the Quad event to
Alpha Xi Delta
's Autism Awareness Day. Now with Phi Delta Theta wanting to add this Black Tie Event to that list, West Liberty University and its Greek life is helping impact the world in a good way even more.
If you would like to help to fight toward a cure for ALS, you can visit the ALS Association's website at
www.alsa.org
. 
Photos provided by Phi Delta Theta