By Jalyn Bolyard, Online Editor 
Who doesn't love Dr. Seuss? Unless you're the Grinch, you'll love The Hilltop Players' performance of the upbeat, whimsical musical "
Seussical
." The production will come alive in Kelly Theater April 27-29 at 7:30 p.m. and April 30 at 3 p.m. 
"Seussical" debuted on Broadway in 2000 and was created by Tony winners Lynn Ahrens and Stephen Flaherty. It is all about our favorite Dr. Seuss's characters coming together in one big magical story, including the Cat in the Hat, Horton the Elephant, Gertrude McFuzz, Lazy Mayzie, the Grinch, Sour Kangaroo and tons more. They take us through Dr. Seuss's Jungle of Nool, Circus McGurkus and the world of the Whos, all in a brightly colored and upbeat fashion. 
Some may wonder why a science professor is directing a musical, but it seems like the perfect fit. "In the sciences, we find that almost everybody also has a very creative side. It just manifests differently; my creative side is theatre and music," Kreisberg said. "I love it." 
"'Seussical' is kind of a combination of several Dr. Seuss stories. The main theme though is Horton Hears a Who," Kreisberg said. "Horton finds the Whos and it's all about their travels and prevails."
Other stories include "The Lorax," "The Butter Battle," "Cat in the Hat," and "Oh, The Places You'll Go," among others. Although Horton's story is the main one, different elements from all your favorite books are shown throughout the show. It's a fun, energetic show that'll be sure to make you laugh.
"There are so many underlying messages that everybody can take something home," Kreisberg said. "It might be a different message for everybody, but it brings back all those things and aspirations from childhood, and it does so in a brightly colored, highly energetic, and almost 100 percent musically through the whole show." 
When asked about the cast and crew, Kreisberg said, "They have been wonderful. They have a ton of enthusiasm; they do everything and more that you ask of them.  You can really see some of the creative work they've done on their own."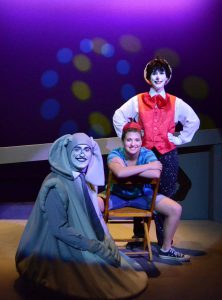 "I think that with what the students do here and the work that they put in, everyone can appreciate it and enjoy [the show]," Kreisberg said. "Everyone is always kind of shocked that somebody they see on campus everyday can do what they do. The amount of talent these kids have is phenomenal; you can't beat it."
The principle cast includes Brady Dunn as Horton, Sarah Lemley as Gertrude, Elizabeth Conley as Mayzie, Amanda Tamplen as Cat in the Hat, Emily Wade as Sour Kangaroo, Alex Gordon as Yertle the Turtle, Kerstin Bommer as JoJo, Daniel White as Vlad Vladikoff, Brody Eggert as Mr. Mayor, Abigail Wilson as Mrs. Mayor, Zac Morris as Genghis Khan Schmitz, and Nathan James as the Grinch. Bird Girls include Alex Burdick, Callie Carroll, Anna Gross and Lindsay Six, and Wickershams include Chad Grubb, Kristian Slavik and Grant VanCamp. 
The ensemble includes Riley Aulick, Carly Balog, Katie Dragan, Alex Franke, Jessica Gulisek, Josie Jarrett, Patricia Loy, Ben Moore, Amber Parsons, Michelle Russell, Jessica Schultz and Maggie Storms, with some of the principle characters reappearing in ensemble as well. 
The production crew includes Christopher Rees as Stage Manager, Jessica Roth as Assistant Stage Manager, Maggie Storms and Kobe Wade for props, Hunter Helms for makeup design and hair, Callie Carroll for costumes, Caitlyn Moore as light board operator and Ingrid Young for publicity. 
Students in the orchestra include Alex Gordon, Haley Sessums, Shane Powell, Brandon Collins, Ryan Wolf, Rachel Krems, Gabriella Saporito, Tyler Funk, Raymond Myers and Aaron Majiros. Some community members will also be playing in the orchestra. 
"It's a great show for anybody. [It's for] all ages, especially children," Kreisberg said. 
If you want to see the show, make sure to grab your tickets in advance. "The last time we did 'Seussical,' which I think was seven or eight years ago, we sold out on the weekend, so we're hoping for that again!" Kreisberg said. "That would be awesome to have a packed house." 
This is the last Hilltop Players production for the 2016-2017 season, so make sure to go out to Kelly Theater and see "Seussical." 
Photo credits: Meta Lasch