Campus community recognizes 'SAAM' with several events
By Jalyn Bolyard, Online Editor
Throughout the month of April, WLU partnered with various groups to host multiple events to raise awareness for sexual assault. April is
Sexual Assault Awareness Month
(SAAM), but the awareness does not have to stop after the month is over.
In a survey conducted by the Association of American Universities, it was found that now 
one out of four women
experience sexual assault while on campus. According to
RAINN
, an anti-sexual violence organization, every 98 seconds someone experiences sexual assault. This important issue affects everybody, not just college students. 
To bring more awareness, this year the Housing and Student Life office and WLU made contact with more groups on and off campus to support events, according to Campus Activities Coordinator Kate Billings. Those included the
YWCA of Wheeling
and the
Sexual Assault Help Center
. 
"All Greek life organizations focused their risk management programs on Sexual Assault," Billings said. "Some of our sororities did self-defense classes with the Martial Arts Club and Chi Nu had our university Title IX coordinator present the topic to the men of their chapter."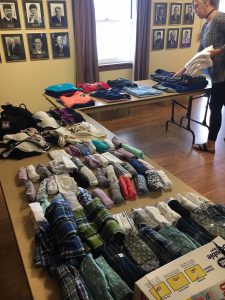 Other on campus groups included the Hilltoppers for Humanity, Panhellenic Council and Chi Beta Phi. The Criminal Justice (CJ) Society also ran a raffle for YWCA. April is also Child Abuse Awareness Month, and the
CJ Society and the Social Work Club had several events
for that as well. 
One of the events for SAAM  included making kits for survivors on April 4 that the Sexual Assault Help Center would give out. 
"People asked why we were packing up certain items and I think it brought to light that some of these survivors can't go back to their previous life," Billings said. "So to see students have that click and understand the impact of just giving up 5 minutes [of their time] was pretty impactful."
Many students also attended a screening of the "
Hunting Ground
" documentary screening on April 12. "It's great to see all types of students get involved and want to learn," Billings said. "Students have already wanted to talk to me about creating programs on awareness next year for freshmen that they can put on and do peer-to-peer, so I definitely think we have brought more awareness."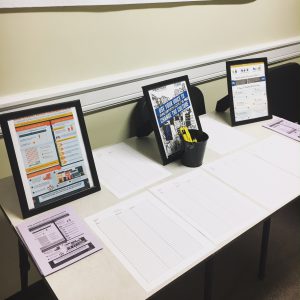 "[The students] are being awesome about receiving the info and being open to partnering with us," Billings said. "I think it has gotten more noticeable on campus because students are wanting to take an active interest in fixing this problem and educating themselves and their peers."
Moving forward, the goal is to spread more education and have more groups partner and help with the cause next year. 
"We obviously find this to be a very serious topic that always needs to be at the forefront," Billings said. "Whether it is knowing resources here on campus or teaching each other bystander intervention, it should always be a continual process."
Photos provided by Kate Billings