Camden steps down, continues 'being an advocate'
By Daniel Morgan, Editor
After eight years of service in West Liberty University's
College of Education
(COE), Dr. Keely Camden will be resigning as the dean to continue her ever-aspiring journey as an advocate for education. She recently accepted a faculty chair position at
Carlow University
in Pittsburgh, where she will spend more time in the classroom doing what she loves. 
"I'll be returning to a smaller private school and leading an education department that would like to have an infusion of new ideas," Camden said. "They would like some transformation and to capitalize on what they already have been able to do well." 
Camden was born and raised in the Ohio Valley, and she spent some time teaching in Virginia before returning home. She was approached to apply for the COE's dean position in 2009; she accepted the role that summer. 
"I love the mix of it," Camden said. "I never wanted to not be engaged in teaching in some capacity. For me, it's a love, an absolute love. The challenge for me is the balance whenever you do have to be behind the desk. It's challenging to teach college classes. You really do need to be available. There are so many things that happen here that can be distracting or need your immediate attention." 
She's overseen a lot of growth within the COE, let alone the university. As the dean, she's spearheaded a plethora of activities, including curriculum development, program design, accreditation efforts, and financial budgeting. However, she's ready for a change after eight years. 
"I do miss the classroom to be very honest with you," Camden said. "This opportunity has been tremendous, and it's hard to articulate, but the same sense that I had when I first came here I now have, that's it's time to go again. It's time to try something different, and I'm never one to shy away from a challenge or a change." 
The
Exercise Physiology Program
found its way to the college when she first arrived, and she also helped build the Athletic Training Program, both of which are now nationally accredited. She and her colleagues built the
Community Education Program
(CEP) from scratch as well, which now houses seven majors. The
Center for Arts and Education
is a major outlet for the CEP, and its existence on campus is Camden's proudest achievement here. 
"It's a true collaborative, interdisciplinary effort that has allowed us to bridge partnerships in western Pennsylvania, Ohio, and now even satellites in Utah and Georgia," Camden said.
 
The center is used as a model and satellite for other schools and educators in the valley and beyond; Chinese scholars are visiting for ideas to create a similar space of their own. "Out of nothing comes this incredible, multi-million dollar faceted network of tech, creativity and innovation that has touched every facet of university life," she added. "That's what I love about this place: the opportunity to just go and do."
Her love for West Liberty led her to run for its presidency in 2015. She made it as far as the
final four candidates
, but she eventually lost. 
"I have never sought a presidency, and I will never seek another presidency," Camden laughed. "I approach things as 'What can I learn from this?' I learned to have a thicker skin than I even did or even thought I would need." 
 
"There of course was some disappointment, but there was also almost an immediate acceptance of what is because that's just how life works," Camden said. "I'm not of the ilk that everything happens for a reason, I don't believe that at all. I think things just happen, and it's up to us to make sense of them and just move forward. 'Chalk it up to a learning experience,' that's what my father would always say."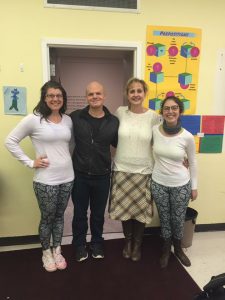 She admitted that her step from dean to faculty member is untraditional, but titles are not important to her. Instead, Camden is more focused on being a learning advocate, especially amidst the current political climate. The privatization of Carlow is another aspect of the school that appeals to Camden because, according to her, it is "not constrained by the bureaucracy of what current public institutions are subject to." 
"There's not been a national conversation about education recently until the president's recommendation for
Betsy DeVos
brought a spotlight on it," Camden said. "In a way though, I'm concerned that is detrimental – the leadership at that level. They've talked about the dissolution of the entire federal department of education, and I don't think that's the direction we need to go." 
"I can't be silent anymore," Camden said. "Part of the desire to step back into the faculty role is the opportunities opened up when you're not constrained as a full-time administrator. A lot of it has to do with being more involved and being an advocate. The time is just right for the next challenge of my life; it's all gut to me." 
Whether she's behind the desk or in front of a classroom, Dr. Camden will always be pushing for education and connecting with students (while occasionally wearing a pink boa). 
"I had to give a speech years ago, and this was in the very beginning of my foray into large presentations. The entire thing was about the pink boa. To this day, those students will still talk about that and reference it to me. 'Are you taking the pink boa to Carlow with you?' Of course I am!" 
Photo credit: Daniel Morgan