By Daniel Morgan, Editor 
Members of the Gary E. West College of Business held their honors banquet this evening in the ASRC's Boyle Room. Faculty, friends, and family gathered to recognize and celebrate the achievements of several students before many of them graduate on May 13.

The student honorees include Ashley Bennett, Hayden Blazer, Samuel Ellifritt, Kaitlyn Gorton, Evan Greco, Trey Jablinske, Jack Kilgore, Renae Kudla, Andrea Puga, Raquel Cabero Quiles, Catherine Tate and Benjamin Taylor.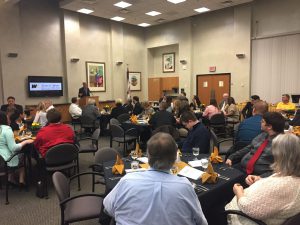 Dean Mike Turrentine introduced the college's faculty members as well as West Liberty University President Dr. Stephen Greiner, President Emeritus Dr. John McCullough, Provost Dr. Brian Crawford and the college's Administrative Secretary Donna Schuler. The evening ended with faculty members individually handing out the awards to the students. 
Bennett and Taylor received the Dr. Thomas J. Babb Scholarship, Blazer received the Becker C.P.A. Review Scholarship Award, Gorton received the Skal International Pittsburgh Tourism and Hospitality Management Scholarship, Kilgore received the 3D Faculty/Staff Scholarship, and Ellifritt received the Peregrine Outbound Assessment High Achievement Award in Business. 
The Outstanding Student Awards were given to one senior in each of the undergraduate business majors, and the winners are as follows: Tate for Accounting, Jablinske for Computer Information Systems, Kudla for Entrepreneurship, Puga for Finance, Quiles for Management, and Greco for Marketing. 
The students received a $250 gift each for their achievements. 
Congratulations!
Photo credit: Daniel Morgan