Hilltop Players shine in the musical 'Seussical' 
By Jalyn Bolyard, Online Editor 
"
Seussical
" debuted last Thursday, April 27, at
7:30 p.m.
in Kelly Theater. The show, directed by Dr. Melinda Kreisberg, ran through the weekend with its last show
on Sunday
at
3 p.m.
I have to say, The Hilltop Players rocked it once again! 
The magical show is all about our favorite
Dr. Seuss
characters coming to life. The most prominent character is Horton the Elephant (Brady Dunn). Horton finds a small speck that holds the planet of Whos, including JoJo (Kerstin Bommer), the smallest of all. It is a story full of twist and turns, all orchestrated by the mischievous narrator the Cat in the Hat (Amanda Tamplen). 
However, the Jungle of Nool citizens don't believe Horton about a talking speck, and the Sour Kangaroo (Emily Wade) and the Wickershams (Chad Grubb, Kristian Slavik and Grant VanCamp) steal the clover it is on. While looking for the Whos, Horton is asked by Mayzie la Bird (Elizabeth Conley) to watch her egg for an afternoon, and spoiler: it's not just an afternoon. All the while, poor Gertrude McFuzz (Sarah Lemley) is just trying to get Horton's attention. 
The rest of the cast included Alex Burdick, Callie Carroll, Anna Gross and Lindsay Six as the Bird Girls, Alex Gordon as Yertle the Turtle, Daniel White as Vlad Vladikoff, Brody Eggert as Mr. Mayor, Abigail Wilson as Mrs. Mayor, Nathan James as the Grinch, and Michael Zac Morris as General Schmitz. The acting ensemble included Riley Aulick, Carly Balog, Katie Dragan, Alex Franke, Jessica Gulisek, Josie Jarrett, Patricia Loy, Ben Moore, Amber Parsons, Michelle Russell, Jessica Schultz and Maggie Storms.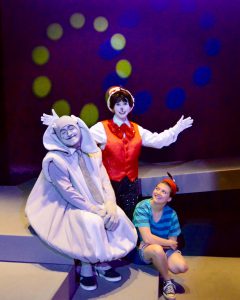 The vocal talent for this show was simply one word: amazing. This show was heavily song-based. I know, you're thinking, "well, that's what a musical is." However, there really were only a few spoken lines– the majority of it was all songs. The students definitely proved they were up to that challenge and all of them – and I mean all – sounded fantastic! I could hear everybody clearly too, which is a huge plus, so the sound board operator Caleb Hedrick did an amazing job.
The orchestra also sounded beautiful and definitely complimented the show immensely. Members included Alex Gordon, Haley Sessums, Ben Podolski, Eliza McGowan, Justin Jones, Rayce Leib, Joan Palmer, Gabriella Saporito, Tyler Funk, Matthew Inkster, Ryan Wolfe, Pat Garrett, Rachel Krems, Ray Myers, Aaron Majiros, Brandon Collins and Shane Powell. 
There were some people who were actors and also played in the pit. I just have to give kudos to those who held multiple roles throughout the show because that is not easy to do.
I also want to acknowledge costume designer Meta Lasch, costume co-chiefs Callie Carroll and Jessica Roth and the crew Amanda Mandirola, Caitlyn Moore and Maggie Storms. The costumes for the show were wacky, fun and conveyed the mood of the show perfectly. 
The set, also designed by Lasch, was spectacular. With colorful pillars and multiple platforms, it was quirky and grand yet also functional for the multiple storylines and moments throughout the show.
There were also a lot of lights in the production. And, I mean, A LOT of lights. The lighting design by Alex Franke was simply stunning and showed the tone of the show throughout, helping visualize the story even more. Kudos to light board operator Anthony Hood and follow spot operator Ingrid Young for bringing it to life.
This show was simply astonishing, and I hope everyone who wanted to go see it did.  There were moments I wanted to cry and moments I couldn't stop laughing. Each character shined, and you never knew what to expect in the background. 
There was simply never a dull moment in the journey! The songs were also extremely catchy and I know I'll be humming them probably for weeks. 
"Seussical" leaves you with a smile on your face, but also with messages of friendship, loyalty, adventure and that anything is possible.
 It was definitely a show that was needed for me because it allowed me to take a step back from the insanity that is the end of the semester. The
Hilltop Players
ended the academic year with a spectacular show.
Photo credit: Meta Lasch