In-depth look at Hilltopper Football for Fall 2017
By Chad Richards, Contributing Writer
The West Liberty Hilltoppers Football Team just released their schedule for the upcoming fall season. Fans familiar with the schedule from last season may note some important changes; a matchup with a long-time rival is moved closer to the end of the schedule and the Toppers will play host to a new out-of-conference opponent.
The Toppers have had some key talent graduate. However, they retain some quality players on offense and defense and have several new players coming in that hope to put West Liberty on track to have a great 2017 season.
One of the major losses in this offseason is quarterback Dakota Conwell, who has graduated and completed his eligibility. Though he battled with early season injuries, he managed to make All MEC Second Team and ranked third in total offense. He also finished second in school history for total offense, touchdown passes, and pass completions.
Also leaving on offense are wide receivers Dan Monteroso and Anton McCallum. Both have earned All-MEC nods through their careers with Monteroso putting up a Second Team performance with 57 catches and serving double duty as punter.
The Toppers were a major defensive force last season, with Darnell Vickers leading the way at defensive tackle. He was a four-time All-MEC pick, finishing his senior season on First Team. He also earned an All-Region selection.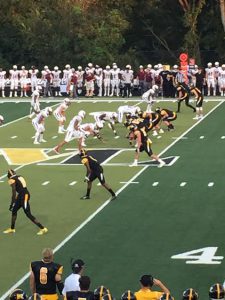 But while the Toppers lose some talent to graduation, they retain some players and add new signees that hope to give WLU an advantage this season. Though nothing is official yet, junior quarterback Brenton Colabella may get the starting nod this season as he has taken several snaps in games before, including when Conwell suffered an injury during the Fairmont State game and was sidelined, ending in dropping the contest by only a point. Look for the offense to shift from a running to a short passing game. On the defense, Second Team All-MEC Pick and MEC Defensive Freshman of the Year Logan Deri returns to keep the West Liberty defense as one of the top in the conference.
With major parts of the offensive line leaving to graduation, head coach Roger Waialae focused most of his recruiting efforts to fill the gaps, leaving him with a signing class that includes five wide receivers, among others. Some of those receivers include Tyler Freeman who earned All-Area Honors at Palm Beach Central HS, DIII transfer Cal Honaberger who led Danville HS to a state title, and Wisdom Jenkins who led his school in receiving as a junior and a senior.
While many fans are expecting some changes, there will also be some changes in an area fans might not expect: the schedule. The traditional opening of Concord, a nonconference opponent and Fairmont State has been moved to the end of the schedule, with the rest staying the same as last season's home opponents become road games for the Toppers. That means that West Liberty will be taking to the gridiron in their season opener on Thursday, August 31 at home against Urbana, where the Toppers snapped a three-game loss streak last season in a decisive 21-8 win.
Home games will be on Thursday nights for most of the schedule and road games land on Saturday. Homecoming brings a slate of three Saturday games, two home and one away. The final two weeks are potentially the most interesting on the schedule; the Toppers host a Thursday night home contest against new non-conference opponent Eastern New Mexico University. Then the Toppers hit the road again for a Thursday night season finale against long time football rival Fairmont State. Last season's meeting was tightly contested, with Fairmont pulling the win 21-20.
With the shakeups in the schedule and the team, it should be a great season for the Hilltoppers when it kicks off this fall.
Photo credits: Megan Sayre and Walker Polivka