Boyd Hall renovations nearing completion
By Josh Smith, Contributing Writer
Nearly three years ago, West Liberty University and the Office of Housing and Residence Life decided to close a popular student dormitory, Boyd Hall. This summer, however, the Maintenance Department has been vigorously working to renovate the vacant dorm, as it will be reopening in the fall. Those renovations will soon be finished.
Beginning in the summer, the work needed to be done in Boyd Hall was, quite frankly, overwhelming. The entire dorm needed a fresh coat of paint, plumbing issues needed to be evaluated and new electrical wiring was to be implemented. With a shortage of workers, the work was expected to be a summer-long project. As of today, the project's expected end date looks like it will be fulfilled on time and perhaps sooner.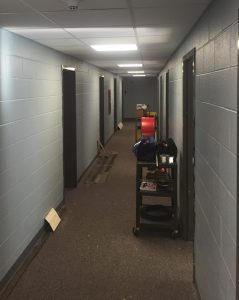 "Coming into the summer, we knew we had a lot of work on our hands," said Sean Kranske, a student worker for the Maintenance Department. "On the painting crew, we were assigned only five workers, so we knew that we needed to work incredibly hard if we wanted to reach our goal."
The work in Boyd Hall is now approaching its second month of renovations, and the building is starting to look alive again. All four floors, including rooms and hallways, have been painted. New ceiling tile, electrical wiring and outlets have also been added and new bathroom counters and sinks are in the process of construction.
"We are slowly, but surely completing our work in Boyd Hall," said Kranske. "It's been a long haul, but it's been fun as well. We are eager to finish our project and move on to the next."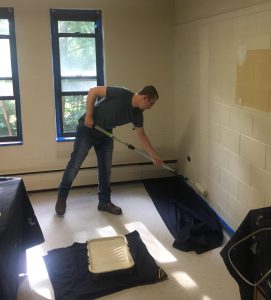 Before the summer, Boyd Hall was a cobweb infested building, with problems needing attended to in every corner. However, the building's progress is looking very positive. It is estimated to be fully completed on or before the expected end date of early August. 
For more information on the progress of Boyd Hall, contact the Maintenance Department at (304) 336-8009.
Photo credit: Josh Smith