Boyd Hall reopens after three years of vacancy 
By Josh Smith, Contributing Writer
After years of sitting vacant, the once prime location dormitory of Boyd Hall is again up and running. Boyd Hall was a very popular dorm in the past. With its convenient location, next to the cafeteria and Main Hall, Boyd Hall is located near every hotspot area on West Liberty University's campus.
Its closure in 2014 saddened many students who loved living close to nearly everything on campus. However, after a long summer of renovations, Boyd Hall is open again to students. 
"We have always like Boyd Hall, and we were sad to see it sit vacant for the last few years," said Marcella Snyder, Executive Director of Housing and Student Life. "It's prime real estate on campus. The only downside, however, is the lack of air conditioning and community bathrooms. So, the main question we had when considering renovation was what can we do to make this prime real estate location attractive students. We knew right away that private rooms were the way to go."
Boyd Hall now houses a building full of single dorm rooms, where any student, regardless of class, can live by themselves. Bathrooms are still shared among each floor, but one incentive for students is no single rooms fees. 
Unlike other dorms on campus, Boyd and Rogers Hall allow students to live in a single dorm for the flat room and board fee. 
"We know students love private rooms, and I thought this would be great for both incoming freshman and upperclassman," said Snyder. "I think Boyd looks great. It's amazing how different a place can look after renovations are done, and we are happy with the results."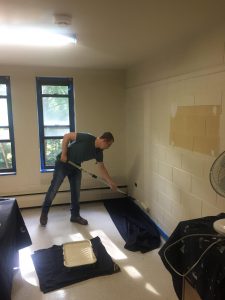 West Liberty University's Maintenance Department
completed the renovations of Boyd Hall over the summer
. The major projects included completely new paint throughout the building, new and improved electrical wiring and appliances and new bathroom countertops and sinks. 
"Boyd was a near complete summer project," said Sean Kranske, a student maintenance employee. "We worked incredibly hard to finish the job, and we are satisfied with the outcome. We hope the students are, too." 
Photo credits: Josh Smith and Jalyn Bolyard