By Jalyn Bolyard and Emily Salvatori, Online Editor and Assistant Editor
The new semester has brought with it leadership changes to West Liberty University's Student Government Association (SGA). Reid Boden, who was elected for a second term as SGA president in the spring, resigned on Aug. 23. His sudden resignation surprised many students.
When asked about why he resigned, Boden said, "because it was, and still is, the best option for not only myself, but for the student body and the student government. Student government is and always has been a team effort."
Continuing, he said, "That being said, my vision, the executive board's vision, and the Senate's vision for the student government were drastically different. While we made a lot of changes last year that greatly benefitted the student body, we successfully unarmed and destroyed an establishment, a sort of machine, that had formed within the student government, which worked against a number of representatives who served and are currently serving on the executive board and the student senate."
"The best interests of the student body were being abandoned out of fear of irrelevancy and loss of personal opportunity," said Boden, "So, instead of greed and gridlock, I decided to step away from the helm and give someone else a chance to lead the student body."
Boden's resignation has lead to some shakeup in leadership positions due to the line of succession outlined in the SGA Constitution. Marcella Snyder, adviser of SGA said, "Basically the vice president  bumps up to president. The person that was named president pro-temp was temporarily acting vice president until the special election. When the special election occurred, Chelsea [Williams] was made vice president which left the secretary seat open, so then the person who was the president pro-temp, which was Gage Sutton, was assigned as the secretary, and then someone else was nominated as the president pro-temp, which was Natasha [Muhametzyanova]. So there was a little bouncing to fill the positions."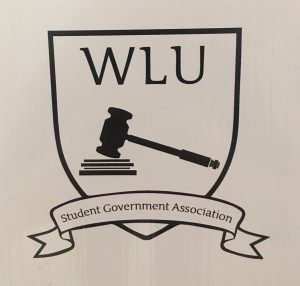 Adam Croasmun, who ran with Boden as his Vice President, is now President of SGA. Croasmun said, "When I ran for Vice President of Student Government Association, I knew there could be a possibility that I would eventually have to fulfill certain roles if someone stepped down.  First, it was a big step, but I could not be more grateful to be in the seat I am now."
Croasmun said, "There are aspects that I cannot disclose, but Reid Boden made the personal decision to step down."
While the resignation has lead to some leadership changes in SGA, Croasmun remains positive looking at the year ahead.
"As SGA President, I'm so excited to work with our Executive Board to continue new traditions, like Homecoming on the Hill! I plan on putting together ideas of all Executive Board members and our senate and taking them to the administration and to use those ideas during my meetings when I serve on the Board of Governors," said Croasmun.  "My job is to function as a joint leader with e-board, to put forth just as much work as everyone else in SGA, and to be the link with the administration. I am so honored and proud to be president of this organization for the university I love so much. I couldn't think of a better way to serve the students of West Liberty University my senior year."
A special election was held on Sept. 5 to elect a new vice president. Chelsea Williams, former secretary, was elected.
"Being elected as VP honestly means the world to me and I can not explain my excitement," said Williams. "I joined SGA as a freshman and I have always been extremely dedicated to this organization."
When asked about goals for SGA's future, Williams said, "Our main goal is for the executive board to function as a joint group of leadership so we can all serve the student body to the best of our abilities. Personally, I find this goal very achievable since the new executive board works closely with each other and we take our responsibilities very seriously."
Boden still encourages students to be involved with SGA and to make any concerns they have known. "I encourage all students to become involved in their campus and academic lives," said Boden, "and I encourage everyone to hold each other accountable. It is only then that will we reach the full potential of West Liberty University."
All West Liberty students are encouraged to communicate with SGA. Snyder said, "If students have any ideas or concerns they want to share with SGA, they can come to the meetings Tuesday nights at 9 and speak as a constituent."  Furthermore, Croasmun said, "SGA is going to have an open-door policy this year and we want everyone to come to us for anything."
Photo provided by Adam Croasmun