Personal training program succeeds on the hilltop
By Ana Berbel, Distribution Manager
West Liberty University's personal training program is back in action after a successful first year. The program was introduced last fall semester and it instantly became popular among students. Personal training offers students a chance to have someone to workout with who can guide them through the correct exercise process.
The program started out last year with three personal trainers. This year the program also continues with three personal trainers, and they are Miranda Cook, Brianna Renk and Blake Williams. The only difference is that the program is now moving to only hiring exercise physiology  students, for which this experience would count as their required internship. This allows the school to continue offering personal training as a free service for students.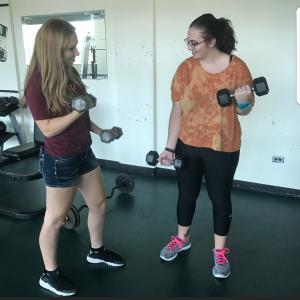 "I personally chose to be a trainer because I wanted experience in my intended career field and I am simply passionate about exercise. I believe 100 percent that exercise is the best medicine," said Cook, who has been a trainer since the program started. "I love being a trainer because I want anyone who wants to learn how to take care of their bodies to have an opportunity to do that."
Having a personal trainer available can be really helpful for students that are just now getting into exercising or experienced students that want to get better. It is important that students know how to stay fit in a safe and healthy way, and they are able to do that with the help of personal trainers. 
"To get in touch with a trainer, one simply has to email Kate Billings and ask her to connect them with an available trainer. Availability is solely based on when the trainer has open time. The hope is that between three trainers someone will have the correct time slot to accommodate any student who wants training," explained Cook. 
Some students that were enrolled in the program and worked with the personal trainers last year are very excited to get involved again this semester.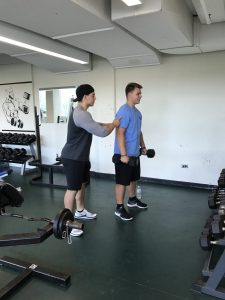 "When I would work out by myself, I would often make excuses not to go to the gym, such as being too tired or too busy. But with a trainer, you can't back out since they come with you to work out, which pushed me to go to the gym. My trainer would also make really fun workouts and would plan the workout based upon what I wanted to do," shared student Kennedy McLean. "I would definitely recommend [the program]. The trainers are always kind, experienced and teach you new workouts that you may have never tried or considered otherwise."
For more information about the personal trainer program, how to get a trainer and how to become one, contact Kate Billings at 
[email protected]
.
Photos provided by Brianna Renk and Blake Williams