By Cody Shook, Sports Editor
This Saturday is homecoming on the Hilltop and all of the current and former Hilltoppers are eager for the battle on the gridiron. Kickoff is set for 1 p.m. against the
Glenville State College Pioneers
in a
Mountain East Conference
battle. This will be the Hilltoppers' seventh game of the season.
So far, the 2017 season hasn't been what the team had expected as they come into the game with a 2-4 record. With five games remaining, the Hilltoppers will look to get on a big winning streak and finish the season with an above .500 record. 
Last weekend, West Liberty traveled down to Shepherdstown, W. Va. to take on the No. 3 team in the nation, the undefeated Shepherd Rams and
things didn't go according to plan
as the Hilltoppers fell 14-51. The offense was able to rack up a total of 241 yards and the defense was able to force one fumble. The 51 points is the most given up by the Hilltoppers since the 2015 season in a game against
Notre Dame College
.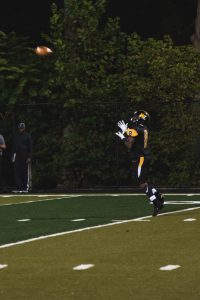 This weekend, the Pioneers will be coming to West Family Stadium in a battle of 2-4 record teams trying to turn their season around with a few games remaining. Last season when these two teams faced off, the Hilltoppers were on a three game losing streak coming into the game but they were able to get a huge 41-24 victory when they traveled to Glenville, W. Va.
The offense was outstanding in the contest as they gained 458 yards and scored 27 unanswered points to pull away from the Pioneers. The defense stepped up big, forcing three fumbles and one interception and they were able to shut out Glenville in the second half to secure the victory.
Junior quarterback,
Brenton Colabella
has thrown 941 yards and nine touchdowns with a 59.5 completion percentage in six games this season. Senior running back,
Jeremiah Ortiz
is leading the ground game for the Hilltoppers, with 516 rushing yards averaging 86 per game. Wide receivers,
Osman Kargbo
and
Isaiah Robinson
lead the team with two receiving touchdowns a piece, with six receivers tied with one.
The defense will have to step up big in this game to stop the No. 4 ranked offense in the Mountain East Conference and they are led by linebacker,
Clifford Clark
with 46 tackles and safety,
Logan Deri
with 37.5 tackles. Five defenders have one interception and they will be asked to step up and stop a high powered scoring offense this Saturday. 
The game is set for a 1 p.m. kickoff at West Family Stadium and if you are unable to be at the game, you can watch it on
WLU-TV14
or read the post-game recap here on the Trumpet Online. Be sure to grab next week's issue of the Trumpet for more game previews and player profiles. 
Photo credit: Megan Sayre