By Emily Salvatori, Assistant Editor
Homecoming returns to the hilltop this year on Oct. 14 with many fun events happening all week, bringing the campus community together and allowing both students and alumni to show their pride in being Hilltoppers.
"The Executive Board this year is super excited to see our student body enjoy the events we have planned. As SGA President, I'm so happy to see things going so smooth and to see how hard our team works to get stuff ready," said Adam Croasmun, SGA President. "I love this school and I only want what is best for our students, and Ashley Pryor and Chelsea Williams have for sure been going above and beyond to make this year's festivities the best ever!"
Pryor, SGA Director of Programming has been putting a lot of hard work in to make Homecoming successful, but it could not be done without the help of many others.
Pryor said, "I just want to give a shout out to everyone we have worked with in order to make the Homecoming dance and homecoming events happen! Dr. Greiner, Debbie Dunker, Robin Brunner, Ron Witt, Dreama Bush, Scott Cook, Marcella Snyder, Kate Billings, Chief Montemurro, Jason Koegler, all of athletics and maintenance and everyone else who has made this possible. Thank you all so much for working with us! Homecoming would not be possible without all of your efforts."
On Tuesday, Oct. 10, Serenades, one of West Liberty's most popular Homecoming events kicked off the week. Serenades was held in College Hall and started at 9 p.m. The judges for this event were President Greiner, Jared Thompson, Kate Billings and Marcella Snyder. For a recap of Serenades, visit here.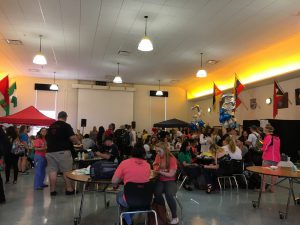 On Wednesday, Oct. 11, Tent Day and voting took place from 8 a.m. until 4 p.m. The Homecoming King and Queen winners will be announced during the game this Saturday, Oct. 14 during halftime.
On Thursday, Oct. 12 at 5 p.m. in the Boyle Room, SGA will hosted a dinner for all Homecoming candidates, and on Friday, Oct. 13, the candidates will participate with the town clean up.
Today, Friday Oct. 13, there are several alumni events planned, starting with the 3rd Annual Homecoming Golf Outing. This will be held at the Highlands Springs Golf Course in Wellsburg, W. Va. Tee time is at 10 a.m. and the cost is $25 which includes a golf cart.
There will also be an Alumni Reunion Party at the Undo's in Elm Grove. The President's Recognition Dinner and Alumni Wall of Honor Induction Ceremony will also take place today. For more information on the Wall of Honor Induction Ceremony, please read the story in this week's Trumpet on page 5.
On Saturday, Oct. 14, there will be many festivities for both students and alumni. At 8:30 a.m., there will be an WLU Alumni Run. Then, the parade will begin at 10:30 a.m., starting at the West Liberty Volunteer Fire Department. Tailgating also begins at 8 a.m. according to SGA posters. The Hilltoppers will play the Glenville State Pioneers with kick off at 1 p.m.
The Homecoming dance will be held on campus for the second year in a row. The dance will take place from 10 p.m. to 2 a.m. in the ASRC (Academic, Sports and Recreation Center). You must have your West Liberty Student I.D. to enter the dance. Each student is permitted to bring one guest who is over 18. The guest must bring a government issued I.D.
On Sunday, Oct. 15 at 6 p.m. in College Hall, the West Liberty University Music and Theatre Department will host an alumni choir concert for everyone who sang under the direction of Dr. Alfred R. deJaager. This concert is free and open to the public.
Croasmun said, "I strongly encourage our students to attend all events for homecoming, and I'm so incredibly excited to see how amazing this year's events are going to go!"
For more information about alumni activities contact Ron Witt, Executive Director of Alumni and Community Relations, at 304-336-8888 or by email at [email protected].