By Kendrick Jackson, Advertising Manager
The Hilltoppers seem to pick up where they left off, as they have won two of their five tournaments this fall. West Liberty has won the MEC Fall Classic and for the second straight year, the Hal Hansen Invitational. 
The Toppers finished 54 holes with a score of 1-under-par 287 and a total of 890. WLU concluded three shots behind Charleston University, who took first place with a total of 887. Charleston earned an automatic bid to the NCAA II Atlantic/East Regional Tournament in the spring. 
However, the story of the weekend was about
Mike Rogers
, a WLU senior from Follansbee, W.Va. Rogers concluded Wednesday with the lowest round of the tournament, shooting a 5-under-par 67. On top of that, Rogers defeated Concord's Brett Laxton in a sudden death playoff to finish first in the tournament.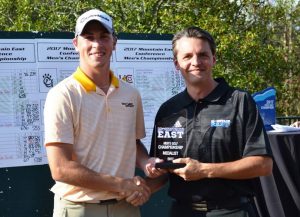 Rogers was excited, but nervous to being the center of attention this past week. "It was kind of cool because there were like 300 people watching the hole," said Rogers. "I couldn't have written my name if I had to – I was so nervous."
Rogers wasn't the only Topper who had a good round.
Joey Cilone
and
Sean Trapp
also finished fourth and seventh, respectively.  
Sophomore Trapp tied for seventh and ended with a score of 7-over-par 223. Trapp's contribution was a huge driving force towards West Lib's almost comeback victory. 
Senior Cilone also had a jaw-dropping performance this past week. During the tournament, Cilone shot a one-in-hole on the 13th hole for 210 yards, his third of his college career. Cilone finished the tournament 4-over-par 220.
The MEC Championship Tournament concluded the fall season for WLU golf. It will return this spring for the second half of the season. Although West Liberty did not receive an automatic bid to the NCAA II Atlantic/East Regional Tournament, WLU is expected to receive an at-large invitation.
For updates on the spring season for West Liberty men's golf team, please visit their
athletic page
.
Photo credits: Hilltoppersports.com