WLU volleyball faces tough MEC test this weekend
By Chad Richards, Contributing Writer
The West Liberty women's volleyball team will be closing at-home play in the 2017 regular season this weekend, with games against Fairmont State and Shepherd. Both of those teams sit towards the top of the Mountain East Conference (MEC).
Head Coach Kayla Mull's Lady Toppers last took to the home court of the ASRC last weekend, after a three-game road trip that took the team to sweeping wins of West Virginia Wesleyan and Glenville State College and a tough loss to Wheeling Jesuit. The two-game, two-day weekend saw the team pick up a four-set win against the University of Charleston and a sweep of West Virginia State.
The Golden Eagles took a close first set in the Friday matchup, 25-22, but West Liberty would take over from there, taking the next three sets and the match with 25-16, 28-26, 25-21.
Caitlin Clarke had another good showing for the Lady Toppers, stuffing the stat sheet with 13 kills, 16 digs, two blocks and a service ace. Raimey Benson also put in a good effort with 10 kills and four blocks while Sydney Scherer and Stephanie Leonard combined for 16 kills and 11 blocks.
Amanda Leonard and Kendall Souder nearly took home double-doubles, but fell just short of the mark, with Leonard having 24 assists and 9 digs while Souder put up 21 assists and 9 digs. Kailee Cunningham continued to put in a strong effort in digs, adding up 16 in the match along with a pair of service aces.
The West Virginia State Yellow Jackets came to the Hilltop Saturday on Senior Day, but it was all West Liberty from the beginning, as they rolled to a sweep of the match 25-12, 25-21, 25-22. Stephanie Leonard led all players with 9 kills, with Benson adding 8 and Scherer putting down 7 more along with a match-high 6 blocks. Souder and Amanda Leonard gave 13 and 11 assists and Cunningham put in a team-high 14 digs. Seniors Scherer and Erin Jans were honored before the match.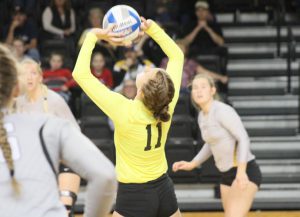 Last weekend sets the Lady Toppers up for their final six games in the regular season, which will play a key role in the all-important MEC standings and seeding for the upcoming MEC tournament. West Liberty currently holds the number six spot in the standings as of Oct. 22, with a 6-4 MEC record and 15-10 overall, putting them within striking distance of a three team, 6-3 conference record logjam which includes Shepherd, Urbana (13-12 overall), and Charleston (10-11 overall).
In the statistical leaders, the Lady Toppers lead the MEC in blocks per set (2.23) and team digs (1608), a mark that also puts them third in the NCAA DII in total digs as of Oct. 22. Cunningham leads all conference individuals in digs with 449, putting her in the 18 spot in DII.
This weekend, two strong MEC teams will be waiting for them in Fairmont State and Shepherd. Fairmont State currently sits in second in the MEC, below Wheeling Jesuit, with a 16-6, 7-2 record. They currently have a seven-match win streak as of Oct. 22, with their last loss coming to Shepherd on the road. They also suffered a 1-3 road loss from Shippensburg.
The Falcons took the first matchup against West Liberty this season in four sets, in a game that saw two of the team's starters injured and Benson putting up 17 kills.
The final home match will come against the third-place team, Shepherd. The Rams sit comfortably ahead of the 6-3 MEC logjam with a 17-5 overall record as of Oct. 22.
The Fairmont State game will start Friday, Oct. 27 at 7 p.m., with the Shepherd game being played the next day at 3 p.m. This will close out the home season for the Lady Toppers. Be sure to go out this weekend and support the team in their final home games.
Photo credit: Hilltoppersports.com