Student art sale to help fund scholarships
By Walker Polivka, Contributing Writer
Today, on Thursday, Nov. 9, West Liberty art students will be selling screen-printed t-shirts, totes, and backpacks in the College Union.
The event
will take place from noon until 2 p.m. and all the money collected will benefit
The Robert Villamagna Jr. Scholarship
and Student Art Exchange Fund.
Associate Professor of Art
Martyna Matusiak
first got the idea for the project from her students. "This semester, I have a talented group of students who are all
Visual Communication Design
majors. They are full of great ideas and I really wanted to show off their talents," Matusiak said.
The funding of art scholarships also played a factor into why this fundraiser was chosen. The art scholarships are vital in gaining talented students as well as sustaining budding, young artists. "The Robert Villamagna Jr. Scholarship supports our current Visual Communication Design and Art Education students. The Art Exchange Fund helps us with international student exchanges in the art department," Matusiak said.
Jacob Bowman, Danielle Flading, Kasia Nowakowska, Maria Christine Pangilian and Savanna Sieger are the art students involved in this project. They came up with different designs to be screen-printed. 
"Kasia's and Jacob's designs were chosen by the art faculty to be printed on t-shirts. The totes and backpacks are designs from all of the students," Matusiak said.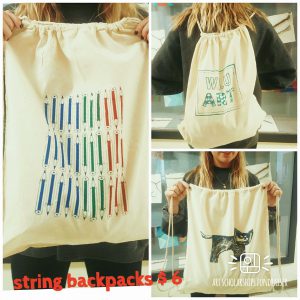 Tote bags are being sold for $5. String backpacks are being sold for $6. T-shirts are being sold for $10. "All products are handprinted and one of a kind. Our products are limited editions," said Matusiak.
Matusiak is always looking to get new students involved. "We are always looking for volunteers to participate. I also offer a class: ART 240 Silk Screen Production. The class deals extensively in the
screen-printing
techniques used to create the products we are selling."
The sale is going to benefit everyone involved. "It's a great opportunity for students to publicize their art, but also nice for the community to buy unique art products at reasonable prices," Matusiak said.
If you have any questions regarding the event or would be interested in Silk Screen Production, please contact Martyna Matusiak at 
[email protected]
Photos provided by Martyna Matusiak