WLU History Club provides incomparable opportunities
By Jalyn Bolyard, Online Editor
The West Liberty University History Club is a club focused on the past, present and future while having fun and experiencing unique, historical  opportunities along the way. 
Any student can join the History Club, regardless of major. All that is needed is an interest in history. Meetings are held every Monday at 5:30 p.m. in the library, in room L21. 
"All they have to do is stop by and they can get involved," said club faculty adviser and Assistant Professor of History Dr. Darrin Cox.
There is a membership fee of $5. This is to help fund club activities, such as historical game night, historical movie night and pizza night.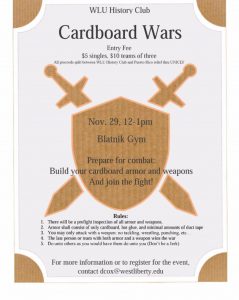 However, the club's next big event is Cardboard Wars, where students can build their own cardboard armor and weapons and fight. It'll take place on Wednesday, Nov. 29 in Blatnik Gym from 12-1 p.m. All cardboard materials can be recycled afterwards. 
There is an entry fee of $5 for singles, and $10 for teams of three. If interested in participating, please let Cox know at 
[email protected]
. 
"I'm looking forward to the Cardboard Wars event because it is a fun way to get students involved in the campus recycling project, plus it's going to be fun to see all of the different types of armor people make," said Kalo. 
"I had gotten word that the recycler from downtown,
Scrappy Pappy's
, was thinking about doing something like Cardboard Wars to raise awareness for recycling. Years ago, I was the person who got the green committee started here at West Liberty," said Cox. "Because recycling was becoming a big issue this year, we were talking about how the
Sustainability Committee
was wanting to do a big push for recycling. Since history is also about the current world, we are currently making history, we felt that it might be good to do a tie-in with recycling and the current state of the world." 
All proceeds from the event will be split between the club and Puerto Rico relief through
UNICEF
.
"One of the things that concerns me, especially about the Puerto Rico situation, is that we have a tendency to see disaster relief as something that you can help right now, and then after two weeks, people forget about it," said Cox. "So, usually, it's in the weeks after whenever the major pushes have already gone by, that they really need more help."
"The way we can impact the world right now is by understanding that the reason why we have hurricanes, tornados and tsunamis and all these major, devastating weather fluctuations that we didn't have before, is because of what we're doing right now," said Cox. "So we saw the recycling efforts, and Puerto Rico and climate change was all tied together with one another."
Another large aspect of the club is the Viking Living History Project, or VLHP. "I train students how to be historical reenactors of the Viking age, and we make our own clothes, armor, shoes, pouches, so on and so forth. Then we go to local organizations, K-12 institutions, libraries, and we've even been to conferences. [And then] we put on a living history encampment," said Cox.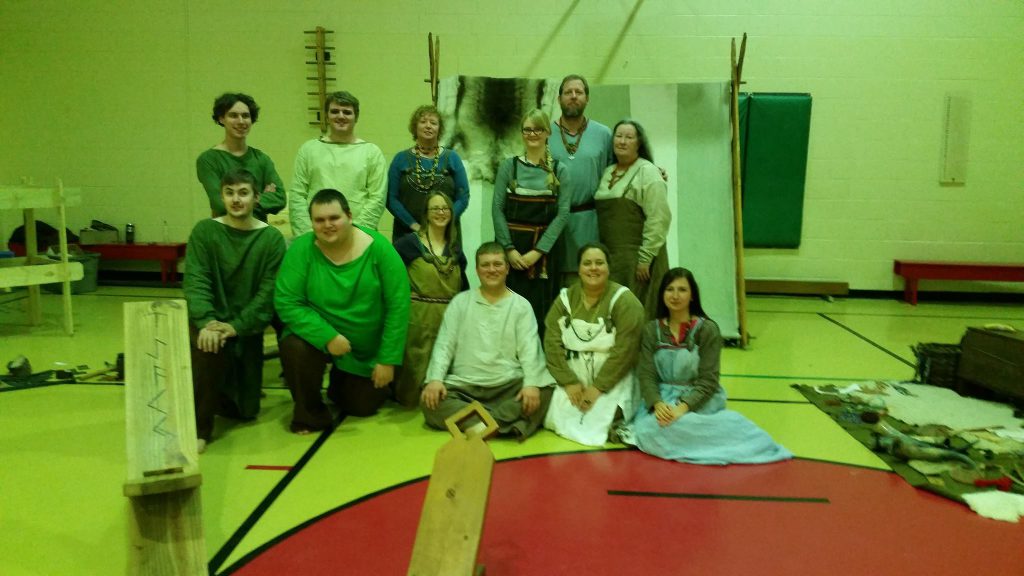 "I got interested in history club because of Dr. Cox's Viking Living History Project," said Kalo. "We make our own period clothing and teach grade school and high school students about the Viking people and culture."
The project helps students make connections, especially those who are education majors. Currently, two former VLHP students have jobs in local school districts. It lets students experience hands-on history, while also helping them prepare for their future. 
Although this semester is almost over, historical fencing and the VLHP is planned for next semester as well. At the end of the spring semester, there are also plans to have a feast by using a medieval cookbook. 
For more information or to register for the Cardboard Wars event, or to learn more about the History Club, contact Dr. Darrin Cox at 
[email protected]
.
Photo credit: WLU History Club