Alumnus scores touchdown with NFL cleat design
By Yijing Shen, Contributing Writer
Candelore, a freelance graphic designer and 2013 graduate, designed the custom cleats James wore on Dec. 4, 2017 when playing against the Cincinnati Bengals.
A Penn State alum, James found Candelore through their mutual friends to design his cleats supporting the
THON charity
, Penn State's student-run philanthropy committed to spreading the awareness of children and families impacted by childhood cancer. THON is run by more than 16,500 Penn State student volunteers and is the largest student-run philanthropy in the world.
"The theme of doing the cleats to raise awareness for THON was totally Jesse's idea," Candelore said. "Being that Jesse James is a Penn State alumnus, he chose a cause close to the hearts of many Penn Staters, but he gave me no limitations on how the design would need to look. The fact that Jesse was fully trusting of my design capabilities from the start allowed me to work freely and really pour my passion out into the project."
Due to passions for both sports and art, he became the only art major student on West Liberty's football team, which gave him a different perspective and inspired him to make new creations on his football equipment.
"It started my freshman year in 2009 when I was threatened by my head coach to stop chopping my game jersey with scissors just to make a more custom tight fit over my pads (My bad coach)," Candelore said. "But it didn't stop there. I started customizing my cleats and gloves with spray paint, sharpies, and whatever else I could find in my dorm room at the time. Obviously, these would chip and peel by the end of warm ups because I had no idea what I was doing, but it sparked something that I still am working to perfect to this day."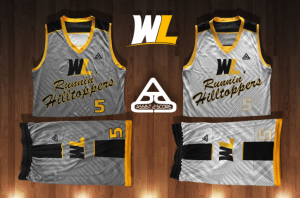 Candelore's talent of designing sports equipment brought him jobs such as designing the WLU basketball team's practice gear last year. The special design and good quality makes the practice gear popular among the Hilltoppers.
 "
Coach Monteroso
, the defense coordinator here, actually brought Vinnie's name up to me. He said that Vinnie graduated from here and was in the uniform business," said WLU head men's basketball coach
Ben Howlett
. "Our practice gear is out of the norm. Vinnie created a really cool model of practice gear that you don't see a lot across the country.  It's reversible, so one side is white, and the other side is gray, but there is also a bunch of different designs on that practice gear."
"It's even our players' favorites. We have four or five different sets. When we rotate the practice gear out, if our guys had a choice which they want to wear, they chose the one Vinnie created," said Howlett.
To see more of Candelore's design or order your own sports equipment from him, visit his webpage at 
candelorecustoms.com
.
Photos provided by Media Relations