By Cody Shook, Sports Editor
A senior from Struthers, Ohio,
McKenna Shives
is no average basketball player. This is her second and final season here at
West Liberty University
. She transferred from Gannon University, where she played her first two collegiate seasons. In her junior year, she led the nation with 106 3-pointers and earned
second team All-MEC honors
. 
Listed as a 5-foot-5 guard, Shives has always been the shortest girl on her basketball team, but that hasn't stopped her from dominating in high school and now in college. 
From the very start, basketball has been a passion for Shives. She used to go to the local YMCA to play in leagues and she was the ball girl for her alma mater, Struthers High School, and that gave her role models to look up to as a kid. Every summer, she would attend basketball camps at colleges, and that's when she realized that playing in college was something that she was going to do. 
Transferring from
Gannon University
was a difficult decision for Shives, but former head coach of the basketball team Lynn Ullom was able to persuade her with the rich history of West Liberty basketball and the family-style mentality. 
One of the reasons why it was so tough to come here was because some of her exercise physiology credits didn't transfer over from school to school so Shives was playing catch-up to still graduate on time. In the fall of 2017, Shives had to manage 23 credit hours while preparing for her senior season, and still managed to finish with all A's and two B's and maintain her 3.7 overall GPA.
Scoring 1,000 points in college was a dream for Shives, but also more emotional than what most people would think. 
Shives said, "Growing up, people never thought that I would play in college because I was shorter than most and they thought that my talent wasn't there, so getting to play at the Division II level is awesome and I'm so blessed to score those 1,000 and I'm so thankful for the many teammates that have helped me along the way to get to that milestone." 
When asked about leading the nation in 3-pointers last season, she said, "I probably took the most 3-pointers too and it's a great accomplishment, and I'm proud of it, but I would much rather win a championship and get a ring."
Shives didn't waste any time getting herself acclimated to the West Liberty campus as she joined the
Fellowship of Christian Athletes (FCA)
. Before games, she writes a message on her wrist that reads "AO1," which stands for Audience of One as a sign of faith and playing for God. 
During her junior season, the Tuesday before the Wheeling Jesuit game, her grandfather passed away and that was extremely tough for Shives because he went to all of her games. In high school, she dedicated her 1000 point ball to him, so not seeing him in the crowd was difficult for her. 
Shives said, "I think about him every day, especially during the season because we were so close and he meant so much to me. But it's nice to know that he's up in heaven watching down on me." 
As a senior, Shives is trying to be a role model for all of the girls that are just coming into college just like the seniors did for her when she was younger. Striving to be a leader and role model for the rest of team, Shives couldn't be happier with the friendships that she is making.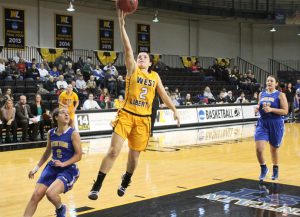 Finding Shives at a West Liberty women's basketball game isn't very difficult as she always finds a way to stand out, whether it's from her yelling across the court or knocking down a 3-pointer from six feet behind the arc. 
"On the court, I'm very competitive and very intense, but when I'm off the court and I'm not in that competitive atmosphere, I'm more laid back and relaxed and I joke around a lot. When it's game day, it's go time." She later went on to mention that she only gets nervous during the national anthem and right before tip-off, but as soon as the game is underway, she calms down and is ready to play. 
Living two hours away is a blessing for Shives as her parents are able to go to all of her games home and away. 
Shives said, "It's awesome seeing familiar faces in the stands because they have been supporting me since my YMCA days, and now they're still supporting me by driving all the way down to Concord and I can't thank them enough for supporting me after the wins, and especially after the losses, because I can be hard to deal with." 
She then said, "I'm very thankful for them because I wouldn't have made it through this journey without their love and support." 
As the season starts to wind down, Shives knows that her playing days are numbered, but she wants to continue being involved in the game that she loves so dearly. Just last week, Shives was accepted into the
University of Toledo
for physical therapy school, and she has also been accepted into
Youngstown State University
. She is currently deciding which school she wants to attend in the fall of 2018. 
"I can't imagine my life without basketball, it would be really hard without it, so whether I go back home and help the high school team or go to grad school, I will try to stay around basketball for as long as possible," she said. "I'm going to miss the competitiveness of the game, but I'm also going to miss my teammates and my coaches. I'm going to miss those rivalry games where the atmosphere is amazing."
Shives attributes her success on and off the court to all of the support that she has gotten from her friends, family, coaches and teammates over the years. There have been doubters along the way because of her height, but it drives her to work twice as hard to prove that she deserves to be there. 
"If a person really sets their mind to something," said Shives, "then I truly believe that they can achieve it if they work hard at it; that's what I base my life on and I try to be as hard working as I can."
Photo Credit: Hilltoppersports.com