WGLZ wins award, grant; student lands scholarship
By Daniel Morgan, Editor
West Liberty University's radio station
WGLZ 91.5
is celebrating a "trifecta," as its faculty adviser Jeff Pfister describes it, from its work in 2017.
After another successful year recognizing
College Radio Day
in October, WGLZ was named a recipient of the Spirit of College of Radio Award by the
College Radio Foundation
, who also provided the station with a $1,000 grant last week. 
WGLZ General Manager, sophomore broadcasting student Walker Polivka, was also recognized with the Abe Voron Award, a $3,000 national scholarship by the
Broadcast Education Association
(BEA) for his ongoing efforts in the studio.
"It feels very good," Pfister said. "We have been doing excellent work here at West Liberty, and I feel that it's only just for us to finally be entered into that category for recognition." The separate grant money will be used to purchase portable speakers for the station.
Around 400 schools participated in some way for College Radio Day last year. WGLZ's 48-hour marathon helped it stand out, as it was one of six college radio stations to receive the Spirit of College Radio Award. Walker Polivka first ran a
24-hour marathon in 2016
.
"I remember when Walker was in class and we were first talking about the college radio days, and I said, 'Well, what if we were to do a 24-hour marathon,' and there were about a dozen students in the classroom, and I could kind of read the nonverbal that were going on with many people, and suddenly this hand slowly raised up, and it was Walker, and he said, 'I'll do it,'" Pfister recalled.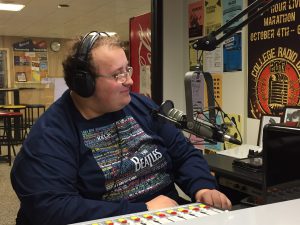 "This year, Walker was still interested in his marathon, and we had the students of COM 204 and 329 participate in a 24-hour marathon leading up to his," Pfister said. 
WGLZ raised $2,200 leading up to and during the marathon, which was divided and donated to the American Legion Post 52 and the Bellaire Eagles No. 371, both in Bellaire, Ohio, Polivka's hometown.  
Polivka originally "had no clue what to expect" when he started at WGLZ. "I was walking into my major blindly, almost," he said. He began his college career in 2016, when he was enrolled in the radio production class.
"I enjoyed the class, stuck with the radio station, and have had a lot of fun and educational experiences," Polivka said. "It has really helped me grow as a person."
"Our discipline of communication is very competitive," Pfister said. "So, the field is expecting the students to have experience. You get the experience outside the classroom. So at West Liberty, we really have a lot of great laboratories to experiment and to build resume talking points. Walker has taken every advantage of that from day one in terms of coming in and recognizing what his interests were and how he could benefit from that."
Polivka was one of nine students across seven universities in the country selected for the BEA scholarship in November. "I figured they had already picked a winner because I hadn't heard back, but when I did I was pretty excited," Polivka said. "My hard work is finally starting to pay off, and it's nice to get this recognition."
"People hear 'communications' and think, 'Oh, all you do is talk,'" Polivka explained. "Well, there's quite a bit more to it than that, and things like this will help students realize that."
Pfister, Polivka and the rest of the station's team are already thinking of College Radio Day 2018 and how they can keep things fresh. They're currently planning events like "
Eat to the Beats
" in West Liberty's Marketplace and the potential return of their March Madness basketball bracket competition in the spring.
"A lot of people look at the radio station and say that we're exclusively trying to prepare somebody to go into the field of radio. But at the 'core of the core,' as I like to say, we're trying to help people become better communicators," Pfister said. 
"Regardless of where you want to go, and regardless of what you're going to do in your career, radio and what you've done with it becomes a talking point on that resume," he said.  "Anybody can get involved.  Participating in campus media  —maybe that's the newspaper, maybe that's the TV station, maybe it's the radio station—helps you build those talking points and they're valuable regardless of where you go."
Photo Credit: Jared Thompson