Horzempa named repeat W.Va. Prof. of the Year finalist
By Yijing Shen, Contributing Writer
West Liberty University Associate Professor of Biology
Dr. Joseph Horzempa
has been chosen as one of five finalists for the Faculty Merit Foundation of West Virginia's
Professor of the Year award
two years in a row, as announced on Jan. 17, 2018. 
The Faculty Merit Foundation of West Virginia was set up in 1984, and it aims to recognize and reward innovation at the state's public and private colleges. The winner will receive a $10,000 cash award supported by Graystone Consulting, and the runner-up will receive smaller awards. 
Hozempa interviewed with members of the foundation's board of directors for the final selection on Jan. 23 in Charleston. He showcased his philosophy of making students more likely to learn about
science
by a special teaching method. 
"We had the interview for the final selection. There were 12 or so folks from all over the state. They asked me all sorts of exciting questions, and I answered them to the best of my ability. At the end, I gave them sort of the sample that what I do in the class, of which I played a song on guitar about cell division," Horzempa said.
"I teach biology classes. When there is a topic that maybe students find it's a little bit boring, I create a song with the information then I play it on the guitar and sing," Horzempa explained. "I am just trying to make it fun and make them want to come to the class. If I can get their attention and make them laugh a little bit, I think maybe they are more likely to retain the information, which has been my philosophy."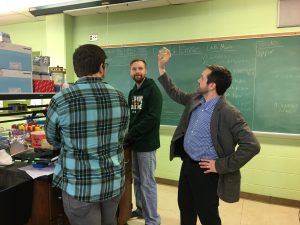 "I really think it's justified that Dr. Horzempa has been nominated as one of the finalists of West Virginia professors. He is a really good teacher that knows how to teach complicated things in an easy, understandable way," said senior biology major Lisa Nachtwey. "He really cares about students and wants no one to be left behind. I always look forward to having his classes because his classes are never boring. He is such a great mentor who really deserves to win." 
Being picked two years in a row for this outstanding honor, as a humble professor who enjoys teaching and doing research, Horzempa appreciated all the colleagues and students.
"I can't believe it. I attribute that to all the wonderful people that I get to work with at WLU. All the other faculty, staff, the administration, and of course the students. I am just honored that I get to teach some wonderful students and do research with a lot of amazing people. I feel like me having been selected is like all of us are selected; the whole campus is selected again," Horzempa said. 
Dr. Robert Kreisberg, Dean of the College of Sciences, feels the positive affect about the repeat honor for West Liberty Univeristy. 
"We are very excited that Dr. Horzempa is once again one of the five finalists. The competition is strong and the fact that Dr. Horzempa is in the top five candidates shows that he is a great professor," said Kreisberg. "It is also positive for WLU because it shows the students and the faculty that WLU faculty are as good (if not better) than faculty across the state of West Virginia."
All the finalists will be honored at the annual awards banquet on April 12 in Charleston where the winner will be announced.
Photo Credit: Yijing Shen