Senior leader Brandon Smith aims high in his final run
By Jalyn Bolyard, Online Editor
One of the seniors out on the court for the Running Hilltoppers this year is
Brandon Smith
. Originally from Sandusky, Ohio, Smith's love for sports started at a young age. So young, in fact, his first word was "ball."
"I started [playing] pretty early," Smith said. "I knew I wanted to either play basketball or football in college since elementary school."
He went to Perkins High School, where he scored 1,100 points and averaged 17.5 points per game and also added over seven rebounds per game during his senior year. Smith also made first-team All-Northwest Ohio standout. For football, he also earned All-Conference and All-Northwest Ohio football honors at the quarterback position.  
Smith brought his love for sports to West Liberty University as a freshman. Last year for the
men's basketball team
, he played in 30 games, scoring 193 points with 47 rebounds and averaged 12.3 minutes per game. 
The year before, Smith redshirted his true junior year due to injury. "I actually dislocated my right ankle and broke my fibula which required a plate and 10 screws, along with two surgeries, so that was a little detour for my third year," Smith said. 
For his final season, he plans on giving it his all. "I think the goal is always championships, but I think a goal for myself this year would be to compete hard every night that I'm out there," Smith said.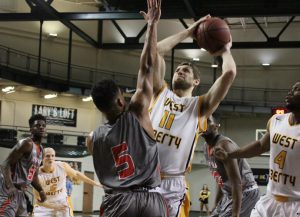 His favorite memories playing for WLU is playing at Fairmont State and Wheeling Jesuit every year, especially at their venues and the atmosphere that surrounds those close games. 
When asked what advice he would give to a freshman player, Smith said, "If you want to actually be a player, you have to compete every day and put your work in."
Off the court, Smith is majoring in sports management and minoring in marketing. He also enjoys watching basketball and football. 
After graduation, he plans to keep his love for the game going strong. "I want to start training junior high and high school kids, along with starting to get into AAU," Smith said.
Be sure to cheer on Smith and the rest of the Running Hilltoppers when they play next Saturday against Wheeling Jesuit at home. The men's game starts at 4 p.m. and women's starts at 2 p.m.
Photo Credit: Hilltoppersports.com