WLU Foundation helps library upgrade classrooms
By Kendrick Jackson, Advertising Manager
With this funding, the library was able to purchase new glass whiteboards and 75-inch televisions with Apple TV components for each room. WLU also updated the classrooms with new paint, carpet, and window blinds. 
About two years ago, the university built an archives room downstairs, which holds the rich history of West Liberty University. "By putting all of our artifacts downstairs in that room, which anyone is able to go in and see, that opened up two rooms upstairs," said Library Director
Cheryl Harshman
.
Although the university is still making improvements to the classrooms, as of Jan. 27, the costs for the renovations is approximately $15,000 for five classrooms. 
Elbin Library opened in 1970, and was dedicated to Paul N. Elbin, a former West Liberty University president. Over the last 48 years, the library has worked hard to "provide access to information in all its formats to the university community." 
"The mission of the library is to support the curriculum of the university, and to me that means everything from providing spaces that students can use for clubs and meetings to getting the right book for the right class," said Harshman.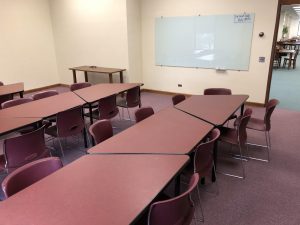 The library is constantly changing and updating its technology to accommodate students. "I need to provide all the right tools for the students' toolboxes and the faculty toolboxes, rather it be a movie, or an Apple TV, or a newspaper," said Harshman. 
Students may reserve any room in advance by visiting the library or by using the
online form
. However, a faculty member must be present if a student or organization would like to reserve one of the renovated classrooms. For more information, contact Cheryl Harshman at 
[email protected]
Photo Credit: Kendrick Jackson