WLU-TV14 airs new weekly cooking competition
By Natasha Muhametzyanova, Contributing Writer
You might like cooking, but do you like it enough to compete on live television? WLU broadcasting students started a new competition for those who like cooking. The show, College Cooking  Challenge, is a
Channel 14
spring special that airs at 3:30 p.m. every Wednesday. It aired its first episode produced by junior broadcasting major, Chad Richards, on March 7. 
Every week, two students compete to win a gift card to
Ye Olde Alpha
, a local restaurant. Each episode features a new pair of contestants and a new cooking challenge, which could be anything from spaghetti to breakfast dishes. 
"I really enjoy the creativeness and the competitive aspect of this project," said Taylor Long, one of the crew members working on the show. 
"Students should enter the competition not just because there is a chance to win a gift card, but  because it's a fun experience that I think will stay with them for years," Long said. Long is a senior broadcasting student and an anchor on Newsline 14, another Channel 14 show.    
Besides entertaining the viewers and participants, the new cooking show also has an educational purpose. The challenge is a result of the Broadcast Practicum class. "I came up with this idea during my sabbatical leave," said Associate Professor of Communication Chris Lee. "Live student programming is my number one goal for students. This will give them experience working on the type of activities that they will be expected to know upon graduation." 
Students fill all crew positions on the show and rotate their roles each week to get the most hands-on experience from the project.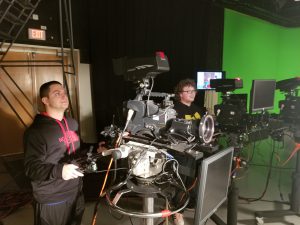 "Working on this show, you learn how things can go wrong and how to fix them on air and behind the scenes. It's a real world experience, and it prepares me and other students for the future," Long said.  
Technical problems, however, were not the hardest part of planning the show. "Many students are camera shy. So, I think it won't be easy to find people willing to come on the show and participate," Long said.
If you are interested in competing on the show, contact Taylor Long at 
[email protected]
The show returned after a spring break hiatus on March 21. One can also watch
Channel 14 online
.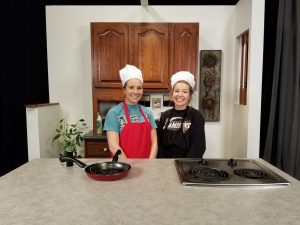 Photo Credit: Natasha Muhametzyanova