WLU students lend a helping hand with flood relief
By Jalyn Bolyard, Online Editor
During the end of February, several student organizations from different aspects of WLU helped with flood relief efforts around the town of West Liberty.
The effort was organized by
Pastor Debra Dague
, and some of the relief took place on Short Creek Road. 
Students aided by cleaning out basements by removing damaged items and cleaning up massive amounts of mud. Students also picked up debris and helped move items that were salvageable in case there was more rainfall.
"The bible tells us to serve one another, just as Jesus came down and served us (Mark 10:45), ultimately dying for us," said Collin Lewis, Alpha and Omega president. "Our group takes service very seriously and any time there is an opportunity to serve someone we jump on that. We had a lot of fun and loved getting to know the flood victims and being able to positively impact their lives. It was a great experience overall and we are continuing to pray for the victims who are still recovering from their loss."
Assistant Professor of Geography
Aron Massey
also reached out to Dague and helped with the flood relief effort. After a day of helping himself, he then invited his Community Planning class (GEO-360) to take part. Eight students from the class volunteered to put in hard work and helped shovel mud, discarded damaged items and more for those who were affected by the flooding.
"The reason I thought it would be important for this class, beyond being able to lend a hand to people living close to West Liberty, is because we talk about what it means to be part of a community in that course, and what kind of benefits or burdens are placed on residents of a community because of its physical geography. Disasters such as flooding are an unfortunately frequent example of how we are connected to the environment around us," said Massey.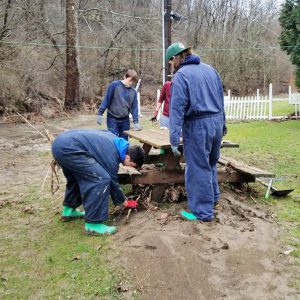 "It was pretty heartbreaking to see photographs and other important things from these people's past that were destroyed," said Massey, "but the residents were very grateful that the students were able to reach out and help and hopefully it was an eye-opener for the students as well."
A dinner for flood victims and relief crews was held at Short Creek United Methodist Church on February 22. Two Kappa Phi members, Anna Malone and Sierra Klages, helped with preparing and serving the meal.
"I just knew that I had to help in whatever way I could, which ended up being the spaghetti dinner," said Malone. "Once I got there and began talking to the other volunteers, I realized how devastating the flooding truly was. I was honored to help prepare this meal for those in need and give back to a community that supports us through Protestant Campus Ministry."
Whether it was by lending a helping hand or a listening ear, students and faculty members reached out and helped the community any way they could after the flooding.
"I think it was awesome to see some other organizations helping as well and local churches coming together to help in any way they could," said Lewis. "You kind of see these organizations and churches putting aside their wants and needs and serving the people who were in the greatest need."
Help is still needed in the local area, so if any individual student or organization is interested in helping with flood relief, please contact Pastor Debra Dague at 
[email protected]
Photos provided by Alpha and Omega