WLU students showcase work in research symposium
By Jalyn Bolyard, Online Editor
The day was full of showcasing student achievement, including poster presentations from
business
to
visual communication
, and presentations from
education
to
natural sciences
. Presentations started at noon in the Boyle Conference Room of the ASRC and in College Hall. Posters were lined up in the ASRC lobby by noon.
According to the paper given out at the awards ceremony, 73 students submitted work into the competition.
Students could submit work in any eight disciplines that included business, communications, creative performance, education, health sciences, humanities and social sciences, natural sciences and visual communication. The three types of work students could turn in were paper, poster or presentation.
An overall best was chosen for each category along with three runners-up.
Susan Smith, a senior psychology major, had the best overall paper. Her work, titled "Change-Maker, Home-Maker, or Booty-Shaker? An Analysis of Meghan Trainor and Her Contributions to Mass Media Content," examined Meghan Trainor's music media content to analyze whether she truly empowers women or rather her song lyrics and music videos undermine progression through a social psychology and gender and pop culture perspective.
"When I found out that I won best paper out of the submissions to RECAP, I was absolutely ecstatic," Smith said, "It's always a great feeling to receive recognition for academic work that makes you feel accomplished and proud."
Runners-up for the paper aspect of the competition were Samaria Oiler, Shane Powell and Miranda Snell.
Aaron Nard, a senior ecology, evolution and organismal biology major, won best poster, titled "The effects of Justicia americana removal on Ephemeroptera, Plecoptera & Trichoptera (EPT) macroinvertebrate biomass."
Nard's work focused on investigating the biomass of aquatic insects in the Buffalo and Wheeling Creek to look for the presence or absence of Justicia. "Relationships between insect biomass and Justicia were analyzed statistically to help elucidate the energetic exchange present in both stream ecosystems," explained Nard.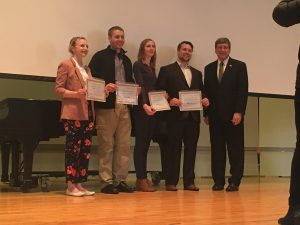 "I was very excited and humbled when I found out I had won first place!  I put in a lot of work to be able to present my research and am thankful to be able to share it with others," said Nard.
Runners-up in the poster category were Hannah Lynch, Jennifer Myers, and Michelle Yadrick and Emily Fournier.
Jessica Gulisek, a senior performance major, and John Heiserman, a senior vocal performance major, took first in the presentation category, winning with their performance titled "Early 20th Century Art Songs by Samuel Barber." The songs "Rain has fallen," "Sleep now," and "I hear an army," were chosen by the duo to perform, which were published in a song set and are settings of poems by James Joyce.
"I signed up for RECAP because it is a competition which now encompasses areas I am interested in, such as musical performances. Our preparation for this performance has been a long-time work," said Gulisek. 
"When I perform, I have a strange feeling where I know I am performing music and text written way before I existed; but at the same time, it feels as if you are conveying your own thoughts and feelings because after studying and practicing the music and text long enough, you gain a strong connection to it," explained Heiserman. "Jess and I were surprised we won. We both felt we did a nice job but weren't expecting it at all so that was a nice surprise!"
Runners-up in the presentation category were Tanya Khan, Anna Malone and Susan Smith, and Eric Tidmore.
Photo Credit: Megan Sayre