WLU FCA gives back to campus, community
By Walker Polivka, Contributing Writer
During your time at West Liberty University, you typically come across a variety of clubs and organizations that are looking to add you as a member. Typically, you join a club based on your interests or because you want to try something new. One organization that might pique your interest is the Fellowship of Christian Athletes.
FCA is a national organization that has been on the West Liberty campus for four years now. Professors Courtney Huffman and Aaron Huffman are the club's advisers. FCA meets every Tuesday night at 8 p.m. in the Boyle Conference Room in the Academic, Sports and Recreation Complex (ASRC).
Each meeting is a unique opportunity for growth. FCA President Callaway Barr said, "We typically will play a game or worship. Then, we listen to a 15-20-minute message from one of the leaders. After that, there will be small, group discussion questions. To end the meeting, we finish together in prayer."
Like any other club or organization, FCA has an executive board. FCA consists of President Callaway Barr, Vice President Katie Higginbottom, Treasurer Dylan Anderson, Secretary Kaylee Hilliard, and Counsel Members Jordan Hosey, Gavin Harrell and Jeremiah Ortiz.
There is not an official number of members in the club. Anyone that wants to show up to a meeting can do so. They can come and go as they please. Barr said, "At an average meeting, we have an attendance of anywhere from 20 to 50 people. At the Light Up the Hilltop event we did in September, there was over 250 people there."
Light Up the Hilltop was FCA's biggest endeavor to date. Barr said, "We flew in a speaker from North Carolina and a Christian rap group from Virginia. We got all the Christian organizations on campus together, as well The Vineyard Church from down in Wheeling. We had free games, t-shirts, food, drinks, a photo booth and much more. It was a successful event for us as an organization and for campus as well."
FCA also gives back, both to the community and to campus. Barr said, "Last summer, we went on a mission trip to Minnesota, where we did home repairs. We volunteer at Valley Hospice. We have put Easter goody bags on every dorm door for the past two years. We have also done free coffee and donuts on the quad in the past. We have hosted bowling/movie nights. We even gave out gift cards to random people on campus! As leaders, we try to provide the best for people who attend FCA, as well as our community with the resources we have. We just want to positively impact people around us."
Even though FCA stands for the Fellowship of Christian Athletes, you don't have to be an athlete to join.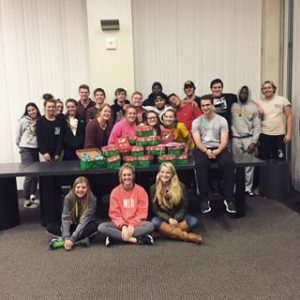 "We have a lot of athletes, but also many non-athletes. FCA is a place where you can connect with people you otherwise probably wouldn't have. It's a place where people can be themselves and not be afraid to have deeper conversation. We are like a big family!" Barr said.
Many students who are a member of FCA can't help but appreciate the kindness of those around them, the life-long friendships that are formed between them, and the love of the Lord that they all share.
FCA member Kaylee Hilliard said, "FCA is where I feel at home. It's where I can truly be myself, and not worry about what others will think because it's such a judgement-free zone. There's so much love flowing out of every one of our members, and it's so moving to be surrounded by amazing people who will help you grow in Christ."
FCA is a very active presence on social media. They can be found on Instagram and Twitter. They also have a Facebook group that you have to request in order to join the page.
If anyone is interested in joining FCA, just show up to a meeting in the Boyle Room on Tuesdays at 8 p.m. There is no cost to join the group. Give it a try and see if you like it.
Barr said, "It's a place where people can share in their love of Jesus and fellowship together. It's a community of friends who support each other during the ups and downs of life, who will share in your joys, provide comfort in times of trouble, and offer encouragement in times of need."
FCA is an organization on campus that allows you to deepen your strength in the Lord while making lifelong friends in the process.
If interested in joining FCA, you can either show up to a meeting or you can contact club president Callaway Barr at [email protected]
Photos provided by FCA