Store reopens in town of West Liberty
By Yijing Shen, Contributing Writer
The Hilltop Food LLC Grocery Store located at 1056 Van Meter Way, West Liberty, W.Va. reopened on March 27, 2018. The name has been changed to
The Store
. 
The Store sells groceries, pop, snacks, deli sandwiches, beer and tobacco. For purchasing alcohol and tobacco, ID is required. 
The store's location is half mile past West Liberty University, which makes life more convenient for students to search their necessities. 
"I am personally happy that it's reopened, because it beats driving 25 minutes off the hill to search for something small that you might need," said senior student Dalton Bobes. "It adds more personality to the town. It's still limited to what's in there, but the fact that we can go up there, it's broader than Bear Necessities. I just think it's a little more convenient."
The grocery store unexpectedly shut down on July 1, 2017 along with the Top of the Hill Restaurant and Pub. The change has disappointed students who regarded them as a memorable place.
"I just thought of the inconvenience of going down the hill first [when the store closed]. However, it became clear that the store and the bar really added so much to the town than its convenience," said senior student Luca Seisler. "Just the life  going on between campus and the store, I remember people always walking up there in summertime, and you would always meet them on the way, wave to each other, have a chat. It really vitalized the town to have the store. I didn't really realize that until it was gone."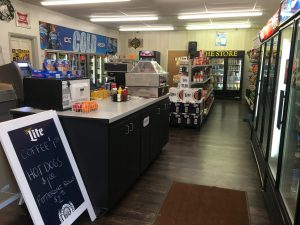 The new store has changed its layout in order to add more food options including coffee, hot dogs and pepperoni rolls. 
 "I am very happy the store opened up again. I really like the design, and it's great to see the new owner has made some effort into it," said Seisler. 
The Store is open from 7:30 a.m. to 10 p.m. during Monday to Wednesday, 7:30 a.m. to 11 p.m. during Wednesday to Friday, 9 a.m. to 11 p.m. on Saturday and 1 p.m. to 8 p.m. on Sunday.  
Photo Credit: Yijing Shen