NYC trip gives students a chance to relax, explore
By Daniel Morgan, Contributing Writer
Many West Liberty University students and their friends and family are still raving about their visit to New York City this past weekend, April 6-8.
Three full charter busses left campus at around 11 p.m. on Friday, and the group started seeing the city skyline ease into focus Saturday morning, setting the tone for a day full of sightseeing, shopping, and adventures with friends.
For some students, this was their first opportunity to go and see "The Big Apple." Junior Brandon Briggs-Tyska was one of them, and he couldn't help but be overwhelmed by the experience, especially fulfilling his mission to see The Statue of Liberty up close.
"I enjoyed seeing the Statue of Liberty and the World Trade Centers," he said. "It's kind of hard to pick a favorite part; it was just really exciting to be there."
Briggs-Tyska also enjoyed the nightlife in Times Square, getting to see some movie scene sights from the "Spider-Man" films. "It was one of the best places I've been at," he said.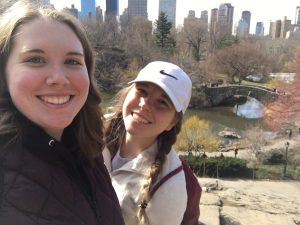 "The trip was very successful and we have received a lot of positive feedback from the passengers that attended," Williams said. "I hope everyone that attended was able to enjoy NYC to its fullest and that they returned to the hilltop with memories they'll never forget."
Williams enjoyed relaxing and sightseeing in Central Park throughout the day.
"This was the second year in a row we have done the NYC trip while I've been here, and I am so proud of how successful it was," SGA President Adam Croasmun said. "Chelsea put so much work into this trip and it really showed because everything went so smoothly."
Croasmun enjoyed taking in all that New York City has to offer, including seeing the Spongebob Squarepants musical on Broadway. 
"I had a blast and it was an amazing show," Croasmun said.
I went on the trip as well, and I hope everyone who went enjoyed the day as much as I did. Seeing the Statue of Liberty up close was a surreal experience. I think I speak for everyone when I say thank you to Williams and the rest of SGA for planning a successful trip and giving us all the opportunity to see and experience New York City.
Photo Credit: Daniel Morgan