Design students create a sculpture garden
By Yijing Shen, Contributing Writer 
"Keep your eyes open. When the wind is calm, and the sky is blue, the giant sculptures will pop up in front of the Fine Arts building," said James Haizlett, West Liberty University Associate Professor of Visual Communication Design and Digital Media Design.
Haizlett started a Spring Garden project with West Liberty University freshmen students who are taking the class Design II-3D Foundations. The project is about making giant inflatable sculptures on the theme of "Spring Garden."
Haizlett's idea was inspired by the warm weather. However, as an Art professor, he wants to see more creativities from students. 
"I'm actually not a big fan of the traditional inflatable Grinch, Santa and Easter Bunnies that appear in yards during the holidays," said Haizelett. "But I think it can be a cool sculptural project and I was interested in seeing what the art students would create if they were given free region to make artistic inflatable pieces." 
The students' final works reflected their imaginations on Spring Garden, such as a giant yellow chick, a ladybug and a pink flower. 
Students are excited about seeing their artworks showing on campus.  "I am very excited about seeing our work on campus," said freshmen Graphic Design major student Taylor Still-Pepper. "We made an inflatable chick by melting table clothes together. It took about 22 hours." 
Even though taking this project as a challenge, students enjoyed working with partners and putting their ideas into the project. 
"I like this project because it was challenging, me and my partner learned what worked and what didn't work along the way," said Still-Pepper.
Haizlett hopes the project could bring campus the appreciation of art as well as significant thoughts about how art connects people. 
"STEM (Science, Technology, Engineering and Mathematics) gets all of the attention these days because that is where the high paying jobs are. But the Arts add color and vibrancy to our lives. Art is valuable and needed because beautiful or thought-provoking art helps us reflect about why we are here, how we relate to each other, and how we connect with the world," said Haizlett.
For more information about Spring Garden project, please contact James Haizlett at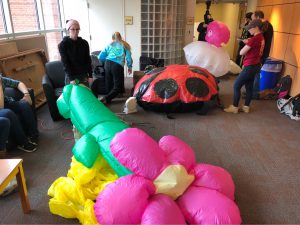 Photo Credit: Yijing Shen