West Liberty students collect more than $1,200 for animal shelter
Story Provided by Daniel Morgan
West Liberty University seniors Mark Carson, Josie McCoy and Daniel Morgan organized a fundraiser at Texas Roadhouse on April 12, raising $1,256.21 for the Brooke County Animal Shelter's veterinary and daily expenses.
Texas Roadhouse is donating ten percent of the evening's profits, $439.21, to the Brooke County Commission's fund for medical procedures for the animal shelter. The students also raffled donations from several area businesses and individuals to raise an additional $817 for the shelter's operational supplies.
"When we counted the money from the raffle at the end of the night, the three of us were ecstatic," McCoy said. "Amy Lawson, Texas Roadhouse's Marketing Manager, was pleased with the evening's turnout as well, and we are thrilled that the event was so successful for the shelter."
The students coordinated the event as a part of their public relations Capstone course after choosing the animal shelter as their client for the semester.
"Just to see young people pick us – that's huge," said Brooke County Animal Shelter Director Donna DeJaro. "To see that others out there share the passion for animals that we have is amazing, and that compassion is appreciated by me and my staff."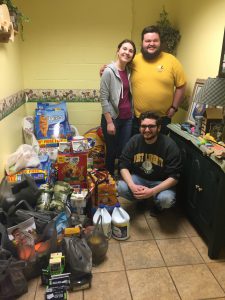 Shortly after the event, the three students purchased supplies for the animal shelter with the raffle funds, including over 200 pounds of pet food, flea and tick treatments, collars, laundry detergent, various cleaning supplies and office supplies.
"Planning the fundraiser was both an enjoyable and rewarding experience the three of us shared," Carson said. "We are very proud of the work we did to help an organization that is close to all our hearts."
"I am impressed with the collaborative and efficient way in which Josie, Mark, and Daniel put this event together," said the seniors' Capstone professor Tammie Beagle. "Their attention to detail and hard work in organizing, promoting, and soliciting contributions are first rate. They have represented both the Brooke County Animal Shelter and West Liberty University with grace and maturity and have successfully carried through on a strong and well-developed plan. I couldn't possibly be any prouder of these three students than I am right now."
The Brooke County Animal Shelter is located at 797 Mac Barnes Drive in Beech Bottom, and its employees and volunteers dedicate their time to finding "furever" homes for all loving animals and educating the public on animal care. For more information about the shelter, please call 304-394-0800.
Photos provided by Daniel Morgan