Nearby Oglebay trail boosts scenic waterfall views
By Lex Buell, Contributing Writer
Oglebay is full of beautiful hiking trails and activities, but did you know that includes a gushing waterfall too?
Located at the bottom of the hill, right off the side of Warden Run Road, is a breathtaking waterfall you can walk right up to. The waterfall is open to the public and to pets as well.
There is a small creek you will have to walk through at first, but there are various rocks to walk over that will keep your feet from getting wet.
Once you are on the other side of the creek, there is a large wooden viewing deck that overlooks the waterfall. This spot is great for picture taking or for just simply enjoying the view.
If you travel beyond the viewing deck, you will stumble upon a lush hiking trail called Falls Vista Trail, which takes you through the lavish and dense forest. This hiking trail is a little muddy, but there are various wooden boards and bridges that will help you ease your way through the trails. The Falls Vista Trail is a short 10-minute walk. Then, once you get to the end of trail, there is a sign that will lead you onward to another trail.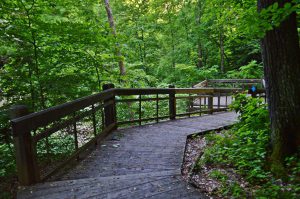 This next trail is called Hardwood Ridge Trail. This trail is a lot longer than the Falls Vista Trail and will take you an estimated walking time of one and a half hours. Once you get to the sign, you can either go to the left or the right.
If you choose to go to the left, this half of the Hardwood Ridge Trail takes you up and above the previous Falls Vista Trail. Although this trail is significantly higher up, it is not treacherous. When walking along this portion of the trail, you will run into another wooden viewing deck. This overlook will treat you to a gorgeous treetop view.
If you continue on, you are given the option to take another trail called Brooks Trail, which will take you to the A.B. Brooks Memorial. A.B. Brooks was a well-known West Virginia naturalist that often led groups on weekly bird walks in Oglebay.
If you decide not to take the Brooks Trail, the Hardwood Ridge Trail will take you to another overlook and loops back around so you can take the same trail back to the Falls Vista Trail.
On the contrary, if you choose to go right on the Hardwood Ridge Trail, it will lead you on a significantly shorter trail which leads you to the Schrader Center. The Schrader Center is an Environmental Education Center where nature enthusiasts can experience a sense of community around a shared love of nature through hands-on science-based experiences.
Overall, the waterfall and its trails lead to endless opportunities for adventure. Just make sure you bring lots of water and wear shoes you don't mind getting a little dirty.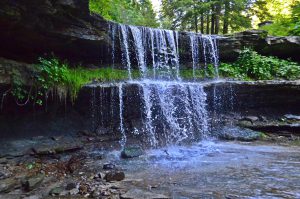 To get to this stunning waterfall, take a left on National Road in Wheeling onto Bethany Pike. Then right after the C3 Church, take a right onto Warden Run Road. Continue on this road for about five minutes and you will run right into the waterfall on your left. Keep your eyes peeled because you might just miss this amazing spot!
For more information on Oglebay's hiking trails, visit their website. 
Photo Credit: Lex Buell