My dreams came true because of Shania Twain
By Daniel Morgan, Contributing Writer
We turned around as we heard loud drumbeats coming from the second stage of PPG Paints Arena where she, wearing a glittery black gown with matching cowboy hat, appeared in spotlight. Shania Twain strutted down the from first bowl to the main stage where I was eagerly awaiting in the front row.
When she triumphantly asked, "Are you ready, Pittsburgh?" I knew my dreams were coming true as the greatest night of my life began.
I've been listening to Shania Twain since I could hear; "Come On Over" was the first cassette tape I remember, and the only one I ever played. I would sit in my room with only a clunky little disco ball from Chuck E. Cheese spinning lights across the walls while she gave me a private concert each night.
She kicked-off July 17's two-hour spectacle of the Now Tour with her upbeat new hit "Life's About To Get Good," directly followed by "Come On Over" for a joyous start.
I saw her in 2015 during the "Rock This Country" tour, and she was just as good this time around, maybe even better because she waved AND smiled at me! She sounded incredible the whole night, singing and dancing with a smile on her face, pulling out favorites like "Up!" "Don't Be Stupid (You Know I Love You)," and "That Don't Impress Me Much." She even floated above the floor crowd to sing "You're Still The One." All the while she rocked every outfit she had on, be it a sexy catsuit, a leopard print ensemble, or her signature top hat.
Twain also took us down memory lane in the second half of her performance, showing us segments of music videos from "You Win My Love," "The Woman in Me," and a few others. It was an inventive way to incorporate classic songs that were bumped for the new material, and I really like how she did it.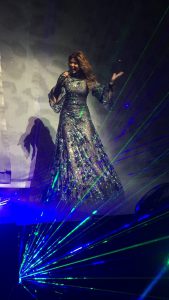 Then, she went right into, in my opinion, the best performance of the night: "From This Moment On." She stood there in a stunning gown and belted one of my favorite songs to perfection, bringing tears to my eyes.
Of course, Shania Twain is more than an artist to me; her music has encouraged and inspired me my whole life. She's also been very open about her struggles, and I've been open about mine.
"Now" was released during my months of inpatient/outpatient treatment in 2017, and its songs got me through. My favorite on the album is "I'm Alright," which she called her "mascot" on stage; seeing her sing that right in front of me was surreal.
Ms. Twain's opener, Switzerland native Bastian Baker, got the crowd revved up at the start, while also returning as a formidable partner for "Party For Two" and "Swingin' With My Eyes Closed." Her band, singers and dancers were all commendable, too, and it was easy to see they were enjoying themselves; they even put on a steamy "Magic Mike, but better" show, as she calls it, to "More Fun."
She closed with "Man! I Feel Like a Woman" and "Rock This Country" as the crowd went wild, wishing she could stay forever. Seeing my idol right in front of me was a dream come true, and I am positive that I will never see a better concert. Plus, I have plenty of pictures, confetti, streamers, AND the pick that guitarist Cory Churko threw me from the stage to remind me of the perfect evening.
Shania Twain will always be my favorite artist, and until I get to see her again, I'll hold on to something she said before singing "Up!": "Life has a lot of ups and downs. Right now, I just want to stay positive in saying that there's nowhere but up from here."
Photo Credit: Daniel Morgan