New sheriff substation on campus boosts safety
By Gabrielle Blanchard, Assistant Editor
After a year-long trial period, to increase safety for the town of West Liberty as well as West Liberty University's campus, the Ohio County Sheriff's Department has entered a unique partnership with West Liberty University: a new sheriff substation. This allows officers to have better resources to work both on and off campus.
The substation is a fully functional office space where officers can conduct interviews and perform arrests, along with WiFi to complete documents and paperwork. The arrangement allows for an increased presence of officers to serve students on and off campus, as well as West Liberty residents.
In lieu of traditional campus security, WLU has its own 24-hour police department to monitor the campus. These officers are commissioned by the State of West Virginia and trained to meet standards of both the West Virginia Criminal Justice and Highway Safety Law Enforcement Training Committee and regularly patrol not only WLU's campus, but the town of West Liberty as well.
Officers work with various law enforcement offices throughout the state and receive regular, ongoing training and report monthly to West Virginia State Police.
Officers employed on campus and in town to enforce rules that are state and local, as well as college-mandated; public safety, medical and fire emergencies, weapons, and traffic accidents are just a few of the things that officers are trained to respond to and handle within the West Liberty community.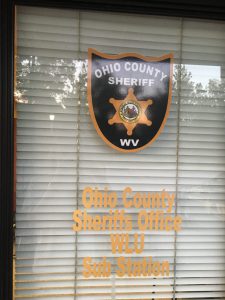 The agreement allows for officers within the substation to answer calls within the town of West Liberty. Officers will respond to 911 calls, write tickets, and perform arrests throughout the town in addition to their campus duties. These services come at no extra cost to the town of West Liberty and help boost campus-town relations.
In a statement, WLU President Stephen Greiner referenced a niche.com study that named WLU as the second safest campus in the state of West Virginia: "We welcome Sheriff Tom Howard and his deputies to campus and are pleased to have the new substation operational and it adds even more strength to our reputation as one of the safest campuses in the region."
WLU's Highlands Center already boasts a substation of its own, which Ohio County Sheriff Tom Howard believes saves deputies travel time.
The sheriff substation is located in the Annex Building.
Photo Credit: Emily Salvatori