Volleyball senior inspires, celebrates growth
By Daniel Morgan, Contributing Writer
Senior right side/outside hitter
Raimey Benson
is making the most of her final season on West Liberty University's volleyball team. She recently surpassed
1,000 kills
in her collegiate career, and she plans to continue spiking through her goals on and off the court with ambition. 
Benson, a
medical laboratory science major
, grew up in Hilliard, Ohio, graduating from Hilliard Bradley High School in 2015. She was a four-year starter and All-Conference selection, achieving the OCC Scholar-Athlete Honor Roll as well.  
"I started playing volleyball when I was in third grade because my older sister Hayley started playing, and watching volleyball made me want to play as soon as I could," Benson said. 
Her stats impressed West Liberty's Head Volleyball Coach
Kayla Mull
, who helped convince Benson to become a Hilltopper.
"Coach Mull made me feel like I could really have a great impact on the volleyball program, and I felt that I could come here to grow as a person and a player," Benson said. And she did grow, becoming a two-time All-MEC Selection, a 2016 CoSIDA First-Team Academic All-District member and achieving the MEC Commissioner's Academic Honor Roll. 
Benson considers reaching her 1,000th kill to be greatest achievement in the sport thus far. She's reaching for the
university's record
for career kills, which Debbie Miller set at 1,501 from 1981-84.
Her next obstacle is the board exams in the spring, and she hopes to pass with flying colors. Benson initially pursued a marketing degree, but her fascination for science and the medical field quickly changed her mind, and her major. 
"The classes have been extremely challenging and my clinicals this fall have been very time consuming, but they all have been even more rewarding," Benson said.
Her plan after graduation, in addition to making time for "Grey's Anatomy" and "The Office," is to move back to the Columbus, Ohio area to work in a hospital as a certified
medical lab scientist
(MLS). "I'm really hoping that I will be able to travel and experience new things in that new chapter of my life," she said.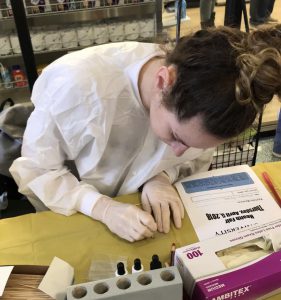 Looking back, she enjoyed travelling as an athlete throughout her years here, especially making last year's MEC championship. "It was just an incredible game to be a part of," she said. She's also played in St. Petersburg, Fl. and New York City. 
Benson enjoys working out, naturally, as well as reading. "I hope to get back into reading for fun once I'm not so busy," she said. She is also proud to enjoy time with people that inspire her. 
"I'm inspired by my family, who taught me to give my all every day and to never make excuses, my high school coach, RyAnne Ufferman, who pushed every single one of her players to be the epitome of poise and strength, and my best friend and roommate, Sydney Scherer, who showed me that no matter what the circumstances, you can succeed in a difficult major as a college athlete," Benson said. 
Even though her collegiate volleyball career will soon come to an end, Benson knows that the sport will follow her wherever she goes.  
"West Liberty Volleyball has been such an amazing program to be a part of," she said. "I have made friendships that will last a lifetime and memories that I'll never forget, all while playing the sport that I love. I'm so thankful for the 4 years that I've had here, and I can't wait to see what the future holds for me and my team."
As for breaking the university's career kills record, anything is possible considering Benson's tenacity and skillset. 
"I've grown immensely over the past 4 years, both as a person and a volleyball player," Benson said. "I think that I have matured a lot, I've realized what my priorities are, and I've learned that I can push myself way harder than I ever thought that I could both academically and athletically. My coaches and professors have helped me to reach goals over the years that I would never have even imagined to be possible, and they have made me into the person I am today."
Photos provided by Raimey Benson