Krise Hall basement houses new ceramics studio
By Walker Polivka, Contributing Writer
A project in the making for many years has finally achieved its goal this fall. A new ceramics studio has opened up in the basement of Krise Hall. The impact of this new studio has been felt immediately throughout campus.
Brian Fencl
, the Department Chair for Journalism, Communication Studies, and Visual Arts, has seen this project as a long time in the making and is happy to see it finally come to fruition. Fencl said, "We have been asking to move the ceramics studio from the Annex to Krise basement for almost ten years. The Annex was small, far from the Hall of Fine Arts and lacked proper plumbing and ventilation. The area we wanted was at one time the kitchen and storage area for when the schools cafeteria was located in the basement of Krise Hall. The area is large, has easy access, and can have the proper plumbing and safety features installed or reactivated."
Lots of upgrades had to take place to help the studio take shape and plenty of other upgrades will take place throughout the year to get it up to par with similar ceramics studios at other colleges. Fencl said, "The studio is a work in progress but to get the semester started we cleaned, painted and moved a lot of furniture and equipment. Everything currently in the space either came out of the old studio, was repurposed from University storage or built from scrap materials around campus. As the semester goes on we will see an update to the lighting, installation of repurposed sinks, and the cleaning and reactivation of the ventilation system. We are also expecting a new kiln and the creation of a outdoor kiln yard."
The new kiln that Fencl referred to will help revolutionize and greatly assist in creating top-grade projects. Fencl added, "We are expecting the delivery of a front loading kiln to go along with the top loader we have been using for the last several years. The top loader works for small items like mugs, bowls, vases, etc and the front loader will allow us to fire larger items like clay sculpture, fine art ceramics and large production runs."
West Liberty University also hired a new professor to run the ceramics studio. Herb Weaver is a face Hilltoppers will soon become familiar with as he will head the new studio. Weaver did his undergrad study at
Eastern Mennonite University
and earned his master of fine arts degree in ceramics from
James Madison University
. Weaver is no rookie when it comes to teaching college students the beauty of art, as he has previously taught at
Brescia College
,
Bryan College
, James Madison University, and
Bethany College
.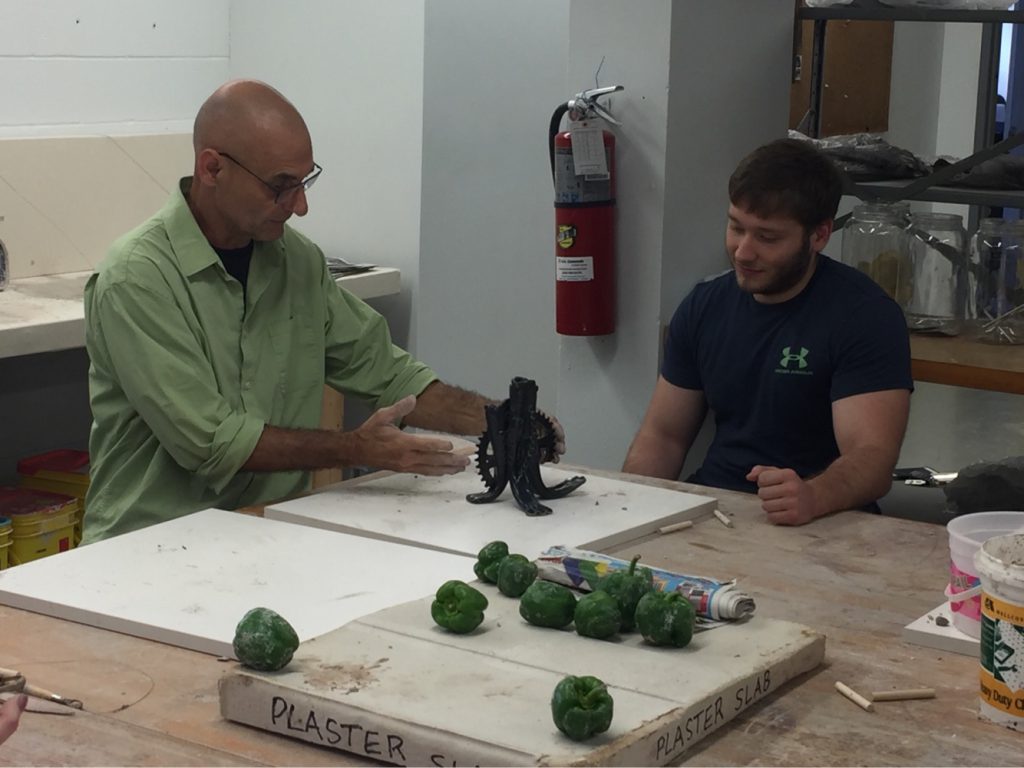 Weaver is optimistic about the upcoming year and looks forward to seeing the different types of art that students produce this year. Weaver said, "Students will work on a variety of responses to 'sculptural forms' as well as 'functional' applications.  In both cases, there is a mix of creative decision-making when composing forms in response to specific projects."
Even though the semester is only a few weeks in, both Fencl and Weaver see loads of potential with the new studio. Fencl said, "The studio offers us an opportunity to grow, serve the art majors better and once finished will be a point of pride for the University." Weaver echoed Fencl's sentiments. 
Weaver said, "This facility will soon evolve into one of the best ceramic studios in the state. It's a really nice space with plenty of room for the students, as well as ample storage areas.  I'm quite optimistic about the potential for growth in the ceramic arts."
Ceramics is open to any student on campus, not just art students. The course has no pre-requisite, so anyone can sign to take it. For further information about the course or to learn more about ceramics, you can reach out to Brian Fencl at 
[email protected]
 or to Herb Weaver at 
[email protected]
. 
Photo Credit: Walker Polivka