'Frankenstein at 200' celebration continues in October
By Jalyn Bolyard, Online Editor
Written by Mary Shelley and first published in 1818, "Frankenstein" has continued to leave its mark on the world.
"One of the reasons the book has resonated for so long is because it really does speak to some of the more troubling issues that we face as humans in society trying to live together. I think that's one explanation for why it continues to be a powerful novel today," said
Dr. Angela Rehbein
, associate professor of English.
"She published the novel anonymously at first and there was actually a lot of controversy around the fact that a woman wrote this book.  It was seen as kind of dark and disturbing, and not really the kind of thing women should be thinking or writing about," said Rehbein. 
"That's another reason why I enjoy teaching and reading it is to think about how she's challenging a lot of social norms through that novel," Rehbein added.
The College of Liberal Arts started celebrating the anniversary in the spring semester with a symposium on April 3. Speakers included professors Dr. Matthew Zdilla, Dr. Aaron Harper, and Rehbein.
The October festivities kicked off with an opening reception for a Frankenstein comic book and graphic novel exhibit on Oct. 2 in the Elbin Library.
Dr. Waller Hastings
, associate professor of English, curated the exhibit.   
"It's a book that's been very influential in our culture. Millions of people who have never read Frankenstein are familiar with the general idea, from the movies, TV, and frequent references," said Hastings. "We like to do things that may reach out to the community and the exhibit is just one part of it."
Hastings said that there are "three basic approaches" the comics in the exhibit seem to take: a straight-up adaptation of the original story, an extension where it involves the creature but a different adventure, and a re-imagining of the whole story in itself, such as one of his favorite pieces, "Frankenstein Mobster."
Students can explore the exhibit until Oct. 31. There are graphic novels on both sides of the library's main entrance doors, with signs directing to three table cases and a window display.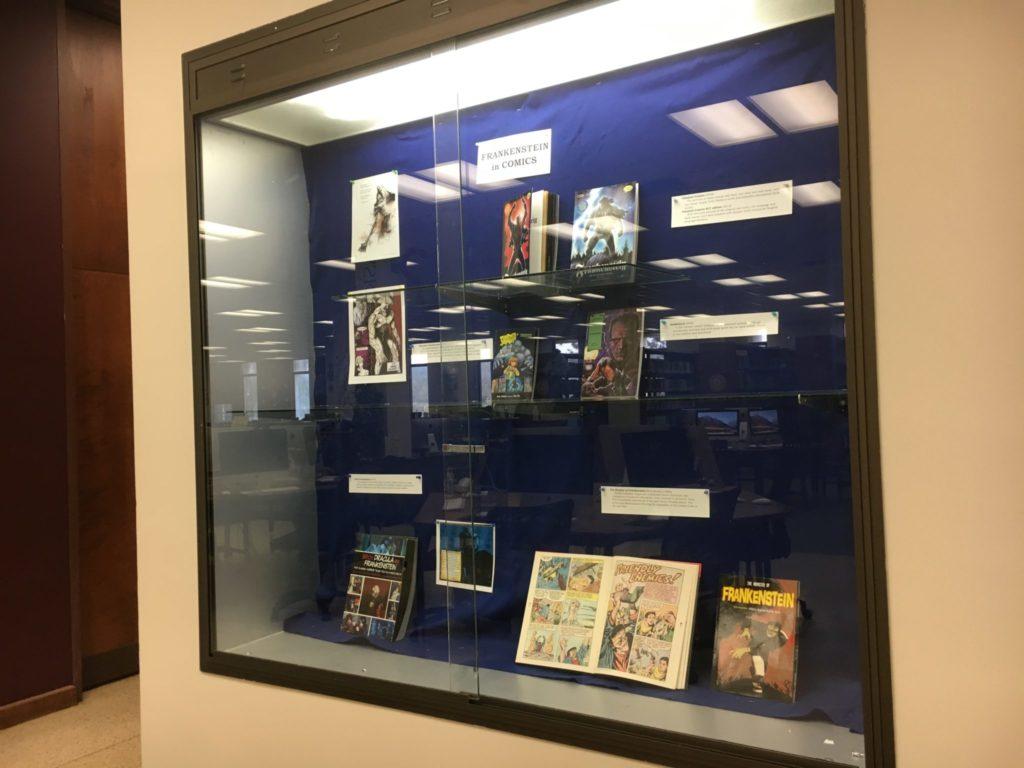 "If you search 'Frankenstein film adaptations,' you find a huge list of probably close to a hundred films. Clearly, other artistic and creative people have seen something in that story that they wanted to play around with, or adapt, to tell their own story," said Rehbein.
The idea for Frankenstein at 200 started in the fall of 2017. Rehbein mentioned to Gerard NeCastro, dean of the College of Liberal Arts, about how she wished she could teach the book to biology students to get their input on the story. 
After being awarded the grant, the college started to piece Frankenstein at 200 together for students.
"All of the events are free to students and they're open to the entire community," said Rehbein, "If [students] have friends or family in the surrounding regions who'd be interested in any of these events, everybody is invited to attend."
"I would encourage students to know that the book is really surprising and different than what they may expect," said Rehbein. "If they take time to read it, I think they will really find a lot of surprising layers to [Frankenstein]."  
Photo Credit: Jalyn Bolyard