By Daniel Morgan, Contributing Writer
"We really did not want to go to the same school," said senior Stephanie Leonard about her and her twin sister Amanda's recruitment at West Liberty University.
The sisters joined
the volleyball team
together in 2015, after playing on the same team since middle school. They initially wanted some separation after living and rooming together for 17 years as well as playing so closely on the court. 
"But we both came here and really liked it, so here we are," Amanda said. "We've definitely gotten even closer."
Amanda
and
Stephanie
are from Milford, Mich., and they started playing club volleyball in fourth grade after watching their older sister play for her middle school team. The sport remained a constant in their routines since. "Same team, different positions" was their mom's rule growing up to prevent them from competing with each other. Mom was also their first coach. 
They also played basketball for some time, but chose to focus on volleyball in high school to manage their time with AP classes. 
WLU's Head Volleyball Coach Kayla Mull approached them at a tournament during their junior year, when they had never even heard of West Liberty. The twins and their family got momentarily lost on their first trip to campus, and while it took some time to get used to the winding roads, they instantly liked the size of the university and its classes. 
"We came in saying we're not going to room together," Stephanie said. "We had been rooming together for 17 years. Well, we ended up as suite mates, but we ended up liking that though." 
They never did escape each other, living on the same floor all throughout college and ending as roommates this year in an apartment. "It made the transition easier to college easier," Amanda said, also teasing that they know how to zone each other out quite well. 
On the court, the twins find it funny how opposing teams can get tripped up when they try to figure out their who's which position. 
"It's hilarious watching the other team, but it doesn't take long for our teammates to get used to it," Amanda said. "A lot of people when they get to know us say, 'You don't look anything alike, and your personalities are so different.'"
The twins' majors distinguish them apart as well as their journeys to declaring them. Stephanie decided on
elementary education
early on and stuck with it, noting her enjoyment as a crew leader at her church's vacation bible school and helping with high school volleyballers learn hitting techniques. 
"Seeing them smile at you and say, 'Oh my gosh, I did it,' makes me think 'Oh my gosh, my heart's melting,'" Stephanie said. West Liberty's Fitness and Fun Days led her to pick up a special education minor. 
Stephanie also hopes to coach volleyball in the future. "I may try with some club volleyball as beginning steps," she said. "It'll be weird not to having to play; I'm going to have withdrawals!"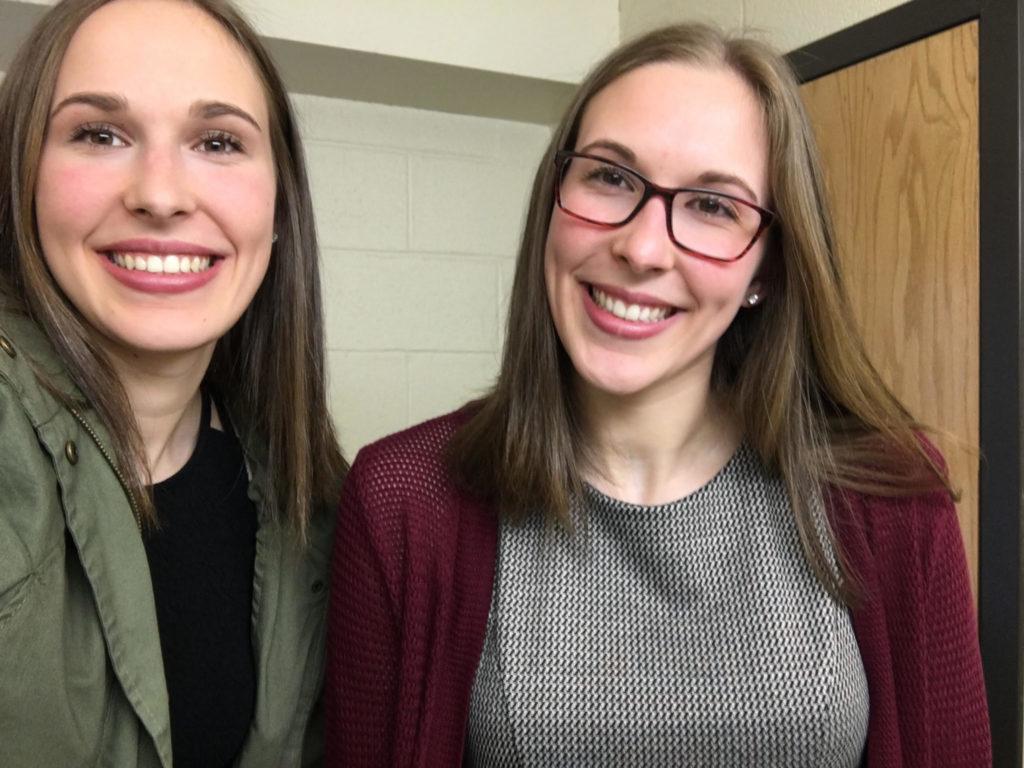 Amanda did not settle in a major as smoothly as her sister. She came undecided, transitioned to exercise physiology for a year, and then ultimately decided on
accounting
after taking a financial literacy class. 
"The funny thing is, our mom is an accountant, a CPA," Amanda said. "Since my sisters knew what they wanted to do, my mom would say, 'Amanda, you're going to be an accountant,' and I was adamant and would always say, 'No, I'm not,' and here I am. I've found my home, and I see a future in it." 
Amanda was honored at the 2018 Great Gala as a high-achieving student. She has an internship lined up at home for the summer, and she plans on pursuing a master's degree to get enough hours to take the CPA exam. 
During the free time they do have, Amanda enjoys reading (although she has to refrain at times), and Stephanie uses Netflix to pass the time. "I fly through shows," Stephanie said. 
They also like going to see new movies; Amanda even keeps a list on her phone of films she wants to see. The new adaptation of "
The Grinch
" is currently on their radar. 
"Being our weird selves is fun; we have a great time," Amanda said. 
The ladies agreed on one moment that stood out to them over he last four years: taking rival Wheeling Jesuit University to the
conference finals
last year. 
"The atmosphere of the gym was unforgettable," Amanda said. "And to win two games against Jesuit, that was the first time that we'd ever done that." 
"We took them to five sets, too, and that's the farthest we've ever gone since we've been here," Stephanie added. 
Both Amanda and Stephanie have grown as players, individuals and sisters during their tenure as Lady Hilltoppers. While they both have dealt with a string of injuries throughout, their biggest goal for senior year is to win the MEC conference title.
They thank their parents (and biggest fans) for always making an effort to show support at the games. "This year, they've probably only missed three matches, but they always watch online," Stephanie said. 
It's plain to see that Amanda and Stephanie share a special bond. They're constantly teasing and giggling with each other when they're not finishing each other's sentences. 
"We keep getting questions from people saying what are you going to do when you graduate and you and your sister aren't together and honestly, I don't know," Stephanie said. 
"We'll figure it out," Amanda reassured.
Photos provided by Amanda Leonard