Printmaking class exchanges art with Muhlenberg College
By Macy Santicola, Advertising Manager
WLU students created and submitted eight prints to be exchanged, and received prints made by the other college's students in return. 
This will be Matusiak's fourth printmaking exchange. In the past, students have even sent prints abroad to Poland. 
"It's such an important part of the printmaking world," said Matusiak. "It always was a community event, and it's been part of the history that artists will make an edition of prints and trade them, so you can create your own collection of artwork." 
Matusiak said that printmaking is often a messy but welcoming environment, which finds artists working together in the studio to help each other ink the plates and place and lift the papers. "Usually we associate art like you're hiding in your studio and you just want to be in your zone. Printmaking is a little different," said Matusiak. She encourages her students to "make friends."
For the portfolio exchange, Matusiak, in collaboration with Orzech, chose the theme "6 p.m." which asked students to stop and take in their surroundings every day for a week at 6 p.m. The idea of the theme was to encourage students to make ordinary events interesting and creative.
Both colleges utilized a different medium of printmaking for the exchange. West Liberty's printmaking class used a method called
drypoint
, in which an image is etched into a plate with a sharp, pointed instrument. Muhlenberg students used
silkscreen
, which is a process where ink is pulled through stencils supported by mesh stretched across a frame.
The importance of building one's collection of artwork, especially of different medium, Matusiak said, is "to respect other medium, understand different kinds of printmaking, and other points of view."
Daniel Morgan, a senior journalism and public relations double major and student of Matusiak's Printmaking I, said, "I think it's really cool to see somebody else's art and own that art because no one else is going to have it. I'll own something that's in a series." 
"It's important to connect students and expose them to the world of printmaking and make them a part of it. It's important for them to know that they're not making art for art's sake, they're making it to connect with other artists," said Matusiak. 
Both sets of prints are now on display in the Media Arts Center lobby, or "Moon Gallery." The prints will be on display until Thursday, Dec. 6. 
Photographs and more information can be found on the program's
Facebook
, "West Liberty University Printmaking."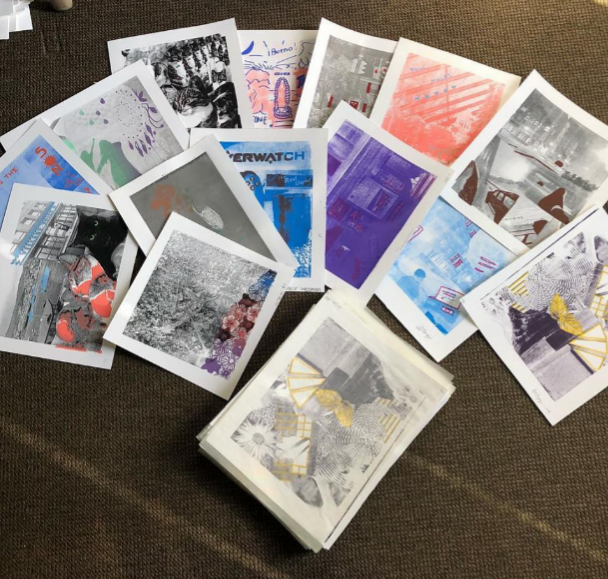 Photo Credit: Martyna Matusiak