Senior Meininger is leaving everything on the court 
By Raissa Wagner, Contributing Writer
Eric Meininger
is a 22-year-old from Centerville, Ohio, and he is not your average basketball player. He is the senior captain of the basketball team and he has had a great journey during his time as a Hilltopper. 
Head Coach
Ben Howlett
said, "Eric knows the way we wanted to do things, he is a phenomenal kid and without him, I don't think we would be a good basketball team." 
Listed as 6 foot 5 inches on the roster, he is able to guard one through five on the other team. He is a very versatile player and can play in multiple positions- point guard or center.
"Eric is probably the best passing big guy in the country. I truly think that he is a phenomenon passer and there are no much good passers anymore, is hard to find some passer like him," said Howlett.
During Meininger's journey as a basketball player at West Liberty University, he has overcome adversities as an athlete. His first two years were not as expected as he didn't play much throughout his freshman year and unfortunately, his sophomore year was marked for an injury.  For this reason, he couldn't play for the majority of the season. In his junior year, he played around 25 minutes each game. 
Now, as a senior, Howlett believes he will probably play between 30-32 minutes each game, which means almost the whole game. 
He has started every game for the team last year and will lead the team to a great season this year, an impressive turnaround from his first two years. 
Basketball has always been part of Meininger's life. "Since I was four years old, my dad always put the basketball in my hand and since then I never stopped playing," said Meininger. 
Matt Meininger, Eric's father, is his biggest inspiration and motivation to be a basketball player, as well as his support to everything in his life, including academic success. 
In high school, Eric was also a golfer, but his passion has always been basketball. Today, he just plays golf for fun even though he has worked in a golf course at the Country Club over this past summer. He has shown potential for many sports but during his college years, his focus has been solely on basketball. 
He is not just a talented basketball player and a hard worker but also a very determined student with a GPA average of 3.3. He has had a lot of obligations during college due to being a student athlete along with his
accounting major
. Including practice hours and tournaments in addition to his classes and exams required of his major, a lot of determination was required from Meininger to get this far. However, time management was never a problem for Meininger. 
Schoolwork has always been his priority in life, as well as being a good and a responsible student. Coach Howlett agrees with this statement, as he said he never heard anything negative about Meininger from professors or fellow colleagues. 
Off of the court, Meininger is seen as a nice guy, always in a good mood. On the court, or in the locker room during his preparation for practices and games, he is considered as a hardworking and a super determined athlete, always looking for a good performance on and off the court. Although all athletes have their difficulties and things to improve, he forces himself to keep his head in the game even when he is not on court.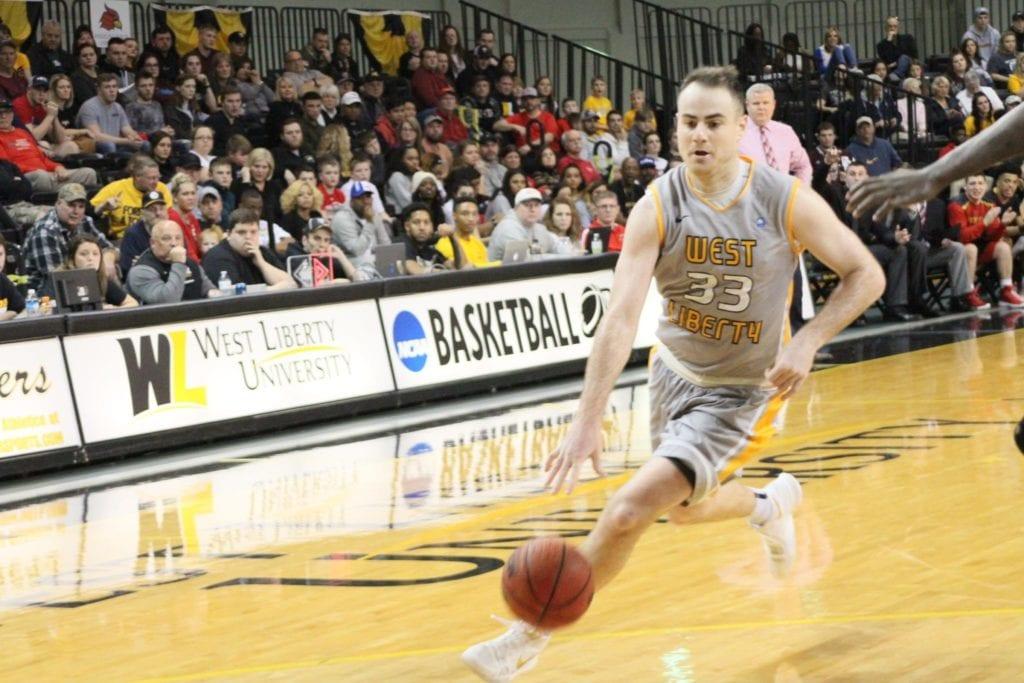 He has learned a lot with basketball during all these years as far as having discipline, being on time, focusing on practices, preventing injuries, and being able to always give his best effort on the court. 
"Eric is a phenomenal kid and is the example that I want our freshman to watch, because he does simply everything in the right way. He leads by example rather than vocally, and that's what seniors should do," said Howlett. 
Great things and even more unforgettable memories are about to come in his last season. Meininger couldn't be more excited about the following games as a senior and being the captain of the team while wearing the Hilltoppers uniform for the last time. He said, "Feels good to be a leader of the team and hopefully we are going to have a great year!"
After graduation, Meininger's goal is to get his master's degree while coaching basketball at the collegiate level. However, his dream of becoming a professional basketball player is always in his mind. Before he came to West Liberty in 2014, he had never heard about the university. The main reason, which made him come here, was to play basketball. 
In addition to the university's nice environment, the thing he is going to miss the most in West Liberty is the people who he met here. He has a good relationship with his team; they have been through a lot together and he considers them to be part of his family. 
Overall, Meininger is certain West Liberty was definitely the best school choice for him and being a Hilltopper for all these years is something that he will never forget.
Photo Credit: Hilltoppersports.com