West Liberty University All-American post player Marissa Brown is eager to win the conference championship for the women's basketball team at her final season.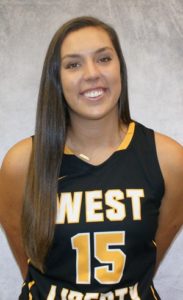 Brown is no doubt a superstar on coach Kyle Cooper's team. She finished her junior year with a school record of 299 field goals in total and five remarkable honors include NCAA Division II All-American, NCAA Division II Conference Commissioners Association (D2CCA) All-America Team, First-Team All-MEC, NCAA Division II National Player of the Week and First-Team All-Atlantic Region.
The humble player always puts the team first. Instead of individual honors, Brown regarded team's victory as her biggest achievement. 
"Playing as a team is something we do well," said Brown. "I love the team, they are my best friends. We are all very close to each other."
WLU Women's Basketball Head Coach Kyle Cooper also found Brown to be special because of her collective ambition. 
"Marissa in particular, she is special," said Cooper. "She is the best post player in the country. However, the greatest part about Marissa is she doesn't care about any of these unless we win. That's special, because most of the time, players have egos about themselves individually."
Transferring from Youngstown State University, the former Division I player found a balance at West Liberty. However, Coach Kyle Cooper feels sorry that he only coached Brown for three years.
"Marissa is a huge role for us," said Cooper, "Some nights she is going to take a high volume of the shots, and other times, she is going to be double and triple teamed. We are going to throw different things out of her; she understands, continues to work and gets opportunities for teammates. She is all team player; she is an unbelievable person like I just said. So far we are showing how much we need her on the court."
Coach Kyle Cooper appreciates Brown's hard work and hopes she keeps her extraordinary personality. At the same time, he also puts high expectation on Brown.   
"My hope for her is continue to be her," said Cooper, "But we do want to take her into another level. That means play the game a little bit smarter at times, especially on defense. Then continuing to play with that high motor and that consistent confidence. Our expectation is high for her, but our expectation is high for ourselves too, that's a good thing." 
Brown is planning to be an elementary school teacher in her hometown in Columbus, Ohio. 
Follow Browns senior season on Hilltoppersports.com and pick up a copy of the Trumpet each week for more previews!
Photo Credit: Hilltoppersports.com